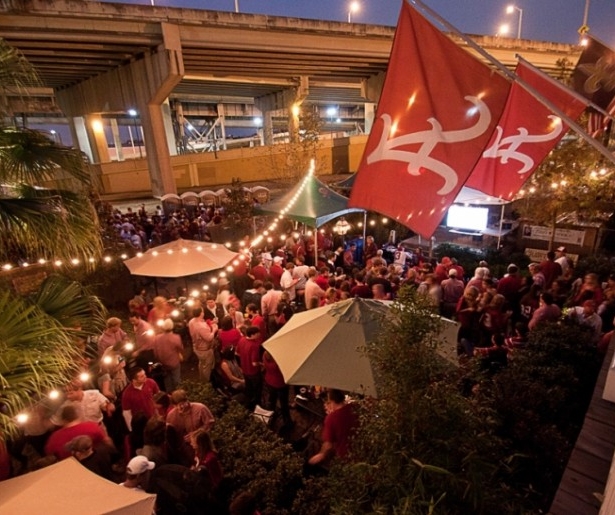 SHARE
I didn't realize how big a thing college football was in the South until I met a guy from Daphne who talked about Bear Bryant in tones devout Catholics reserve for the Pope. I mean, I knew college football was big – I grew up an ACC basketball fan, so I'm no stranger to college sports fandom – but there's big and there's defining your life. The Crimson Tide – a name I associate with female monthly hormonal shifts and a mediocre Gene Hackman/Denzel Washington flick – defines lives.
I also took it for granted that you supported a college team because you, y'now, went to a specific college. Not in the South! You may have gone to Bossier Parish Community College, but you don the purple and gold when the Tigers take the field, or it's a date night, or you're attending a wedding. To be fair, professional football made slow inroads into this region and, in any case, sports fandom is a random equation that's 9 parts heart and tradition, plus a smidge of geography. "The people I do not know in this color jersey are better than the people you do not know in that color jersey! And we as a collective unit are better for liking our people in the specific color jerseys! CLEAR EYES FULL HEARTS". Full disclosure: after the Saints lost to the Seahawks I screamed "F*** you, you Patagonia wearing, salmon eating mother****ers" at the TV screen at the Half Moon, so I am a hypocrite.
Where was I? Oh yes, college football is big in the South, and Alabama has the craziest fans this side of Crazyville. Or Tuscaloosa, whatever. If you're gonna Roll Tide tonight for the Sugar Bowl (7:30pm), I recommend heading to the Rusty Nail, which is our town's unofficial 'Bama bar. There you will find yourselves amidst like minded souls who would frame a booger if AJ McCarron flicked it at them. I kid; it will be fun times at the Nail tonight, but I wouldn't show up in a Sooners jersey. Although if you do and manage to hack this video clip onto the TV screens, you're my hero.
Also, jokes aside, Roll Tide. I like a guy who takes on Alabama's powerful Greek system and wins, although to be fair, Nick Saban could probably ask everyone in the state to jump at the same time and set a new Guinness World Record.
Image courtesy of The Rusty Nail.