POSTED Fri. Jan 3, 2014
It's worth it to brave the cold this weekend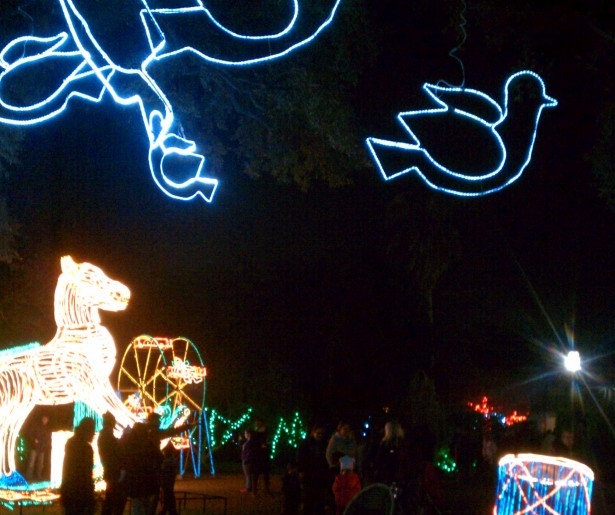 SHARE
Baby, it's cold outside. The postman just came by my house dressed like an extra from Dr. Zhivago. But that doesn't mean the fun stops in New Orleans. The weekend must go on!
1 Last days of Celebration in the Oaks
It's your last chance to catch Celebration in the Oaks, the holiday lights spectacular at City Park that this year includes an under the sea area, the always enjoyable Cajun Night Before Christmas, a ridiculous sound and light show by the mini train station that blasts Katy Perry and Ke$ha so loud you'd think you were at a Lusher house party, and some genuinely stunning light installations like the one pictured above.
Also: hot buttered rum. The hot buttered rum goes with this weather like delicious low proof peanut butter with jelly. The Celebration ends tomorrow, so get in while the getting is good.
2 Gal Holiday & the Honky Tonk Review
Need some alt country boot scoot? In a non-smoking setting? That list bit is important for me; my family seems susceptible to the flu and colds that are spreading through New Orleans faster than wildfire, and I'm trying to protect my throat. Which will not happen tonight because I'll be screaming for Gal Holiday and the Honky Tonk Review, playing tonight at the Circle Bar at 10pm.
3 Bounce fundraiser!
Also tonight: a bounce fundraiser to send some New Orleans talent to SXSW at the decidedly non non –smoking Siberia (was that confusing? Sorry. Translation: there will be smoking). Katey Red, Sissy Nobby, Magnolia Rhome, BJ So Cole, Culotta Rock, Killy Keys, Walt Wiggady, Da Danger Boyz and DJ Lil Man are all gonna perform to raise money so they can get to Austin and show the word how New Orleans do. Show starts at 10pm.
4 Wild Card playoffs
We're guessing most of you are gonna watch the Saints-Eagles game Saturday night, and if you're anything like me, you'll be doing so in a paranoid state of utter nervous collapse. I don't really want to say much more because the jinx gods are watching me type this, but here's our guide to local sports bars. Who dat.
5 King Cake Festivities.
Did someone say king cake? KING CAKE! Actually, a veritable king cake festival is going down from 9am-3pm on Saturday at Cottage Catering in Harahan (1536 River Oaks Dr W), with proceeds going to support Team Gleason. This will be a good day out for families.
6 Mykia Jovan and To Be Continued Brass Band
Blue Nile (532 Frenchmen) has good music going into Sunday night, including songstress Mykia Jovan (8pm) and To Be Continued Brass Band (11pm), who were banned from playing at the foot of Canal and Bourbon, because clearly that's a quiet, residential area. Anyways, both acts are great, and a nice way of rounding out the weekend.
Images courtesy of Adam Karlin, Gal Holiday and the Hony Tonk Review, Siberia, Cottage Catering, the New Orleans Saints and Mykia Jovan.