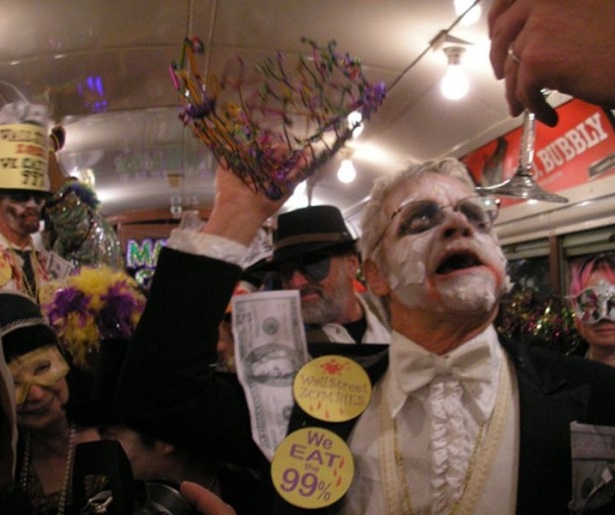 SHARE
There is very little that could get me out of my house tonight. It's going to drop into the 20s. The TWENTIES. The good thing about the 20s was flappers, gangster suits and hanging out with Hemingway, Fitzegrald et al on the Parisian Left Bank, and those '20s came with a '19' in front of them.
But I may brave the frigid air of the Orleans Parish Frigidaire tonight anyways. Because parties, people.
No sooner have we taken down Christmas lights than we re-hang carnival decorations. Seriously, I saw a guy adorning his apartment at Esplanade and N Rampart yesterday with a comedy mask and purple, green and gold streamers. It made me happy the way Christmas decorations make the rest of America happy in late November, except here we get that warm fuzzy feeling throughout much more of the year. Ha ha, rest of country.
Anyways, while carnival hasn't officially started, tonight is Twelfth Night, when we transition into carnival season. In food terms, it's like we're getting a little amuse-bouche to whet our palettes for the inevitable onslaught of carnival tradition and crazy.
I don't bring up tradition and crazy lightly. The two events happening this evening skew to both ends of that scale.
Joan of Arc parade
The tradition comes from the Krewe de Jeanne D'Arc, whose annual parade rolls from Toulouse & Decatur at 6pm sharp and wraps at Washington Artillery Park (across from Jackson Square).
I'll walk back the 'tradition' classification a little, as the Joan of Arc project was only founded in 2008. But the 14-block waking parade still speaks to our history, particularly its Gallic origins.
The Krewe de Jeanne D'Arc seeks to connect Louisiana to said origins. In one way, they do so by lionizing the historical Joan, who was the Maid of (Old) Orleans and has been the go to nationalist symbol of France for centuries. In other ways, they do so by holding events throughout the year that celebrates the city's French heritage.
Tonight's medieval-themed parade is the most visible of these efforts. This is a family parade, even if it goes through the Quarter. Expect folks dressed in Renaissance-faire style costumes and the always entertaining sight of tourists who don't know where to stuff their Hurricanes when confronted by a bit of local culture that doesn't fit their preconceived notion of what New Orleans should be.
Phunny Phorty Phellows
On to the crazy, otherwise known as the satisfyingly alliterative Phunny Phorty Phellows, whose motto is
"A little nonsense now and then is relished by the best of men". The 'Heralds of Mardi Gras' can actually claim a tradition title as well, as their history dates back to 1878, with sporadic interruptions in marching schedule.
The Phellows depart in a streetcar from the Willow Street Car Barn (8201 Willow) at 7pm; they'll be pre-gaming at the car barn from 6:30 if you want to get an early start. They pack into a single streetcar and ride (literally) up the St Charles line to Canal St and back. There will be throws and general revelry as the PPP eases us into the upcoming marathon that is carnival time.
Images courtesy of the Krewe de Jeanne D'Arc and Phunny Phorty Phellows.