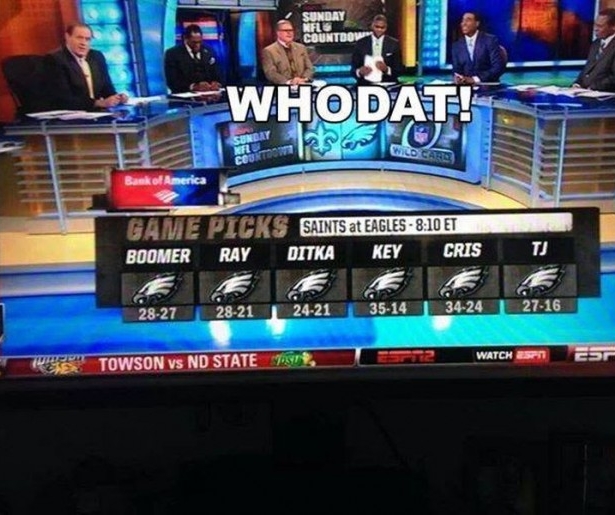 SHARE
Well, that was a nailbiter. The elusive playoff road victory has been a monkey on the Saints' back since they began (sporadically) making it to the postseason 25 years ago. Yesterday the Saints overcame two interceptions and several defensive injuries to edge out Chip Kelly's Eagles with a last-second Shayne Graham field goal.
It was a tale of two halves, as both teams combined for just 13 points before halftime. Brees ended the Saints' third and fifth drives with interceptions, but the defense managed to keep Westlake High alumnus Nick Foles in check for most of the first half, forcing four punts. The second half was nuts.
The defense forced a big three and out to open the third quarter, and it was off to the races for the Saints. Down 6-7, the Saints scored touchdowns on their next two drives, a 24-yard catch-and-run by Lance Moore and a nice 4-yard cutback run from Ingram. The latter filled in for the injured Pierre Thomas and had a good day, notching 97 yards on 18 carries (5.4 YPC), which speaks to the generally great ground game the team ran on Saturday.
The Saints thus found themselves up 20-7 and appeared to be cruising toward a victory. Then their best non-injured defensive back, Keenan Lewis, who had been effectively shutting down Desean Jackson up to this point, sustained a head injury on the following drive as he delivered a big hit on WR Jason Avant. Lewis is a trooper and demanded to be put back in but probably didn't know what year it was and was replaced by rookie corner Rod Sweeting. Chip Kelly then began to relentlessly attack Sweeting and Corey White, the injured Jabari Greer's replacement.
The Eagles began to surge, as Jackson immediately came down with a big catch to set up a McCoy rushing TD. Their next drive resulted in a field goal, and things began to look dicey at 20-17. After a big Meachem catch set up Shayne Graham's third field goal, Philly got the ball back for the drive that would give them the lead for the final time.
This 'drive' mainly consisted of Desean Jackson drawing a huge pass interference call on Corey White that put the Eagles at the Saints' 3-yard line. After a Zach Ertz TD catch, Philly took a 24-23 lead, and the Saints needed to produce a 5-minute drive and score. They mainly used the ground game to march methodically down the field to put Shayne Graham in a position to win the game for us. And he did.
Now that New Orleans has won a playoff game on the road, we will head back to Seattle for a rematch with the team that crushed us five weeks ago. It will be louder and wetter and windier. Generating a run push for Thomas(?)/Ingram/Sproles/Robinson won't be nearly as easy. And we DEFINITELY will not win with a -2 turnover margin like we did yesterday. The eye is focused on us. It wants the ring.
We just won a road playoff game. So we know victory away from the Dome is possible. Seattle lost at home to the Cardinals in week 16. So we also know that defeating them at home is possible. If the Saints play at or near their highest level, they can win Saturday. In other news, Vegas is favoring the Seahawks by a touchdown, just like they favored Andy Dalton today.
Imahe courtesy of Ron Domingue.