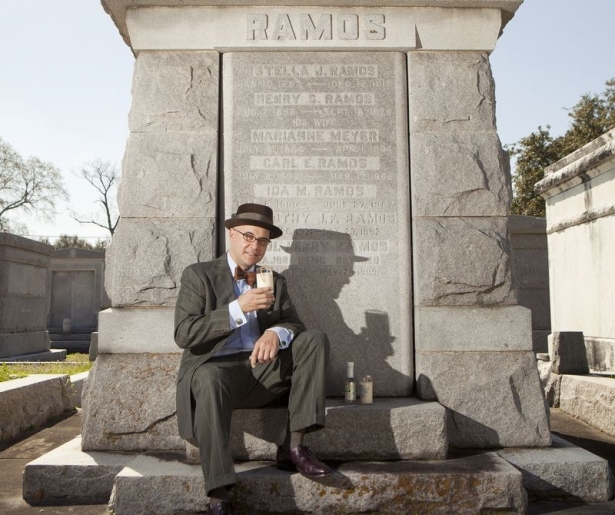 SHARE
Me: sipping Herbsaint on the rocks with a couple hits of Peychauds at the grave of one of the iconic figures of New Orleans cocktail history.
I just got out of work and at the moment I've got a mind for the iconic—the Ramos Gin Fizz Ramos Gin Fizz. When it comes to New Orleans and all things culinary, the Ramos Gin Fizz is the Oysters Rockerfeller of cocktails. Or is that the Sazerac ? No, the Sazerac is the Gumbo of cocktails.
Neither here nor there, as what I'm on about is the Ramos Gin Fizz's reason for being in the first place. It's what locals call an "eye opener", a libation to be enjoyed during brunch. A lot of us bartenders have been known to get upset when a guest orders one around 9pm at night, myself included. Even now there's a consensus that this drink is time consuming and should be ordered with caution.
A couple years ago, however, I decided to be honest with myself. I said, "Self, these guests are flying hundreds of miles to belly up to a proper cocktail bar and enjoy this cocktail by a bartender from where it evolved… and be honest with yourself, do you even know why it's this breakfast/brunch cocktail you dismiss it as?"
No, I didn't.
But I do now. I also just poured my second glass of Herbsaint, so I'm feeling organized enough to explain what a Ramos Gin Fizz does for a New Orleanian in the morning/afternoon. Henry Ramos created his frothy concoction to help us get through the day. The Ramos Gin Fizz is meant to get us through our alcohol educed ailment from the night before, rather than being the source of said ailment in the first place. Sweet juices rehydrate faster than water can, and this is where the lemon, lime juice and sugar are key in the Ramos. Along with rehydration, you'll get some soothing for your stomach via the cream and eggwhite. Gin is an herbal liquor and with the floral addition from the orange blossom water, the drink becomes the therapeutic booze necessary for morning motivation.
But we're a 24 hour city, so who knows when a hangover could creep up. Order a Ramos as you like (but recognize – it is a time consuming drink to prepare). And if you're lucky enough, have one with Ramos himself at his mausoleum in Metairie Cemetery.
Cheers,
Chris