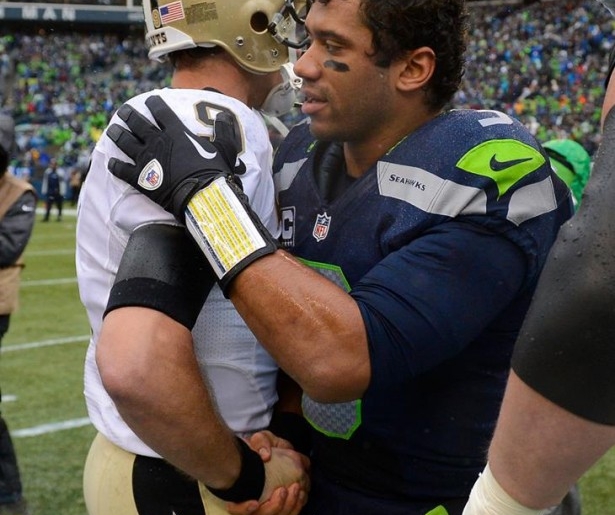 SHARE
An emotional roller coaster of a season came to a close Saturday as the Seattle Seahawks outlasted the Saints 23-15. Seattle possessed the ball for a minute less than the Saints, ran 14 fewer plays, earned 12 fewer first downs, and tallied just 103 passing yards. Drew Brees actually threw for 301 yards while Seattle put up 277 TOTAL yards.
It was a weird game. Seattle's offense didn't need to do much, feeding Marshawn Lynch carry after carry to nurse an early-established lead. He rushed 28 times for 140 yards and 2 touchdowns. If you take away his TD runs of 15 and 31 yards, he was averaging a pedestrian 3.6 yards per carry.
The Saints tried to mount a couple of comebacks in the second half, but the long Lynch TD run mostly hammered the nails into the coffin. There were some questionable coaching decisions regarding field goals and some suspect play calling that resulted in the Saints blowing their chances over and over again. Seattle blew a lot of chances too, but they made their field goals.
Season Overview
Saints fans will be trying to figure out this game for a while. One could safely say that it was microcosm of a Saints season marked by systematic consistency issues. How are the last 18 Saints games going to be parsed? What happened?
This season, the problem within the Payton/Brees Era New Orleans Saints was Payton and Brees. Often, Brees did not seem as comfortable as he has in the past. Perhaps it's a left tackle issue. Maybe there were some new offensive packages that his WRs were adjusting to. I'm not really sure. Maybe we're all just spoiled, and we whine when Drew ONLY has 10 or 11 great games in a season. I don't think the Brees thing is very worrisome.
I think the play calling of Payton and/or Pete Carmichael was definitely weird in the fourth quarters of our most contentious games. The Patriots game was blown by three running plays on our last drive when all we needed was a first down. The result was a three-and-out, a punt to Tom Brady, and a loss. The Jets game was a second half full of similarly bizarre play calling, including the reverse to rookie TE Josh Hill that resulted in a punt when we needed a first down. Then there were the Panthers and Rams games. Ugh.
The 2013 Saints were a fun team and a good team, but were ultimately not a team that pulled through when it really counted.
The new guy, Rob Ryan, WAS consistent. He kept the Saints competitive in many weeks they should not have been. Our defense was maligned by injuries and was adjusting to a new scheme, and we didn't have the most talented roster to begin with. But the defense hung tough most of this year. Ryan was a rock. And here's the thing: we're going to have to make 2014 count, because he could be an NFL head coach by 2015.
Looking Forward
Speaking of the defense, I think it is safe to say that we have some solid building blocks to draft around this year. Akiem Hicks and Cam Jordan were excellent and will be nice 3-4 bookends going forward. Junior Galette finally showed a lot of promise and versatility playing on and off the line. He's athletic enough to take the edge, and he's a good open field tackler. Keenan Lewis was a great pickup. He's the best corner the Saints have had in a long time. Kenny Vaccaro is awesome. I think we drafted a special player in him.
Need Positions: CB, OLB
On the other side of the ball, I am excited to see what Kenny Stills can do after a full offseason program with the first-team offense. But I also wouldn't hate to see the Saints take a WR in a middle round to shore up our pass-catching talent. Khiry Robinson intrigues me, and his very existence illustrates that drafting a RB in the first round is usually a waste. We really need to sew up the line, specifically at left tackle, which might be our most glaring need as a team. An upgrade at center wouldn't hurt either.
Need Positions: LT, C
Closing Remarks
Well, the football party in New Orleans is over for now. Brees and the gang will be back next year. And when the party gods close a door, they also open up a window. In this instance, that window is carnival season in N'awlins. But maybe that's not enough. Maybe you're a schadenfreude type of guy. Here are the two big events happening in Seattle over Mardi Gras weekend.
Image courtesy of the New Orleans Saints.