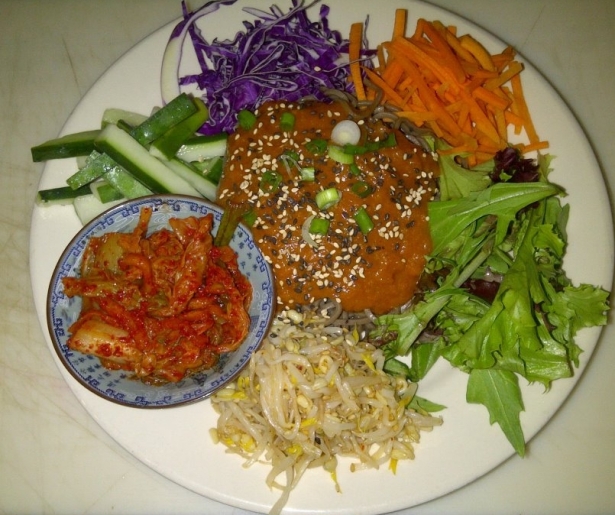 SHARE
Lots of speak-easy events in New Orleans in the coming week – unsurprising in a city that's been doing pop-up style restaurants and bars way before those concepts were popular in Brooklyn and Austin. There'll be wood-fired pizza and a veritable cauldron of gumbo at Pete's Easy Pizza Speakeasy from 6-11pm ($25 for a 5-course meal), along with music by Josh Wexler and Natalie Mae 'Pete's' is located around Urquhart and Port street. And starting on March 5, the excellent Korean-vegan (yup, that's a genre, because we say so) cuisine of "The Wandering Buddha"http://www.thewanderingbuddha.com/ will come to the Magazine St branch of La Divina Gelateria the Buddha will subsequently come back to the same spot for the next five Tuesdays.
It's hard to pinpoint exactly why this is the case, why our city so naturally lends itself to generating random little restaurants and bars in folks' backyards. I attribute the reason to a certain element of New Orleanian spirit which a friend identified as such: "This city is like a case study of slightly controlled anarchy."
Agreed. While the word 'anarchy' has some justifiably negative connotations, it can also signify a good kind of chaos, a free frontier where all sorts of ideas are conceived, gestated and birthed. In this case, said ideas take the form of delicious pizza, but Nola takes other tacks for pushing creativity – just visit the offices at Launchpad. What we're saying, in short, is a little bit of anarchy can lead to a lot of innovation.
New Orleans, at her best, is grassroots, bottom-up, crowd-sourced and organic, and all those other terms we like to throw around when praising what people elsewhere call The New Urbanism," and we New Orleanians simply term "Life." Don't have a means of evacuating poor citizens? Create an evacuation non-profit. Can't figure out what to do with junk and debris? Start a business like the Green Project so you can recycle said materials and use them to rebuild the city. Too expensive to display your art on Julia St? Turn your house into a gallery. In their way, all of the above examples are speakeasies. Yes, they have the proper paperwork (well, maybe not the pop up galleries), so maybe that invalidates the speakeasy definition, but what we're getting at is something deeper than acquiring permits: it's using the resources at hand to create an adaptation to an urban environment that makes said environment more enjoyable, or at least profitable.
Even the old line Krewes like Rex and Comus are, to a degree, examples of this. While today these societies are by and large symbols of vested power, back during their founding they were created as challenges to an established power structure (the old Creole elite), an assertion of the desire to celebrate, masque and parade when masqueing had become a dying tradition. Whatever else you may think of the old line Krewes, they were some of the first New Orleanians to fight for the right to party, and of course societies like Zulu then came along and challenged their existing power structures, and then became a type of vested interest, and so on and so forth.
We're not saying Nola's anarchy is always good, by the way. Anarchy can often delineate a situation where folks don't watch out for each other. I personally hate it when people create their own parking restrictions by putting trashcans out on the street; while I understand some folks just want to save their street parking spot during festival season, the fact is it's not 'their' spot, and neighbors often get screwed along with tourists.
Wanna talk more about the 'speak-easiness' of New Orleans? Come to another speakeasy, the SpeakEasy held at Chickie Wah Wah tonight at 6pm. WWNO is hosting the event, which will be a community discussion of things New Orleans, set to recur on the last Thursday of each month.
Photo credit: Wandering Buddha