POSTED Mon. Jan 20, 2014
The New Orleans fight for freedom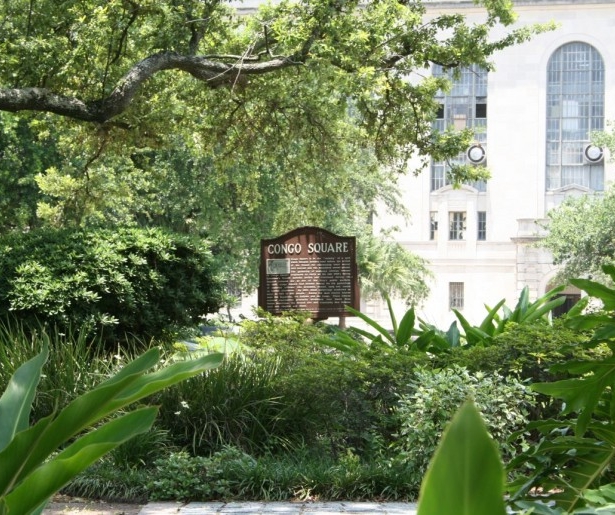 The fight for freedom and equality created many heroes in New Orleans, but unlike other cities whose names are synonymous with Civil Rights – Birmingham and Selma, Greensboro and Little Rock – there is no singular place to collectively honor local heroes of that struggle. Instead, the story of Civil Rights in New Orleans is told at annual anniversaries and in scattered, often hidden landmarks. This tour highlights some of those sites of resistance and courage.
1 The Treme
The oldest African-American neighborhood in America, Tremé was also one of the only places in New Orleans and in the nation where free people of color could acquire property. Developed beginning in the 1790s, it grew substantially with Haitian émigrés and was annexed by the city in 1812. By 1850, the free blacks of New Orleans owned over $2 million worth of real estate.
2 New Orleans African American Museum
Housed in a beautiful 1828 Villa, the museum collection contains important artifacts and contemporary art that tell the stories of African-Americans in New Orleans across history. There's a particular focus on the history of the Treme.
3 St. Augustine's Church/Tomb of the Unknown Slave
By the 1830s the free people of color who lived in the Tremé were growing in number and wanted to build their own church. They petitioned Bishop Antonine Blanc for the right to do so, and consecrated it after the African bishop Saint Augustine in 1842. Challenged by this manifestation of Black power, White Catholics attempted to purchase all the pews inside, but were ultimately out-purchased by Black congregants. The latter also bought side-aisle pews built specifically for slaves.
4 Home of Dr. Louis Charles Roudanez
Dr. Roudanez was a French-educated Physician who started the first Black newspaper in Louisiana, L'Union, in 1862 with the purposes of creating racial equality. In 1864, it was reorganized as the Tribune and began publishing bilingually. It was the leading voice of black New Orleans, publishing militant opinion pieces as well as poems. The daily newspaper had correspondents in Boston and Paris before it folded early in the 1870s. Roudanez was a founding member of the Comité des Citoyens which organized Homer Plessy's challenge to segregation. The Louisiana State Museum in the Cabildo has a copy of L'Union. Dr Roudanez's home is no longer standing, but was originally located at 197 Iberville St.
5 Battle of Liberty Place Monument
In 1874, 8,500 members of the Crescent City White League, a violent white supremacy group which included many former Confederate Army soldiers, battled an integrated police force of 600 and a black militia of 3,500 in a violent coup. The League occupied City Hall and the Louisiana statehouse, then located in New Orleans. They held black Governor William Kellog hostage and forced his resignation. Thirty-eight people were killed and twice as many wounded. The uprising signaled the end to the Reconstruction era. Three years later, President Rutherford B. Hayes removed all Federal troops from the South. At Iberville St. and Convention Center Blvd (Note that in 2015, the city council voted to remove the monument from its current location, although it is still present as of this writing.)
6 Congo Square
This legendary site outside of the ramparts of New Orleans (literally; just past Rampart St) was where slaves were legally permitted on Sundays to congregate with free people of color. Both groups would hold market, discuss politics, and carried on syncopated musical traditions that evolved into Ragtime and Jazz. That quintessentially American musical form launched many talented Black Americans onto the stage of national celebrity and challenged popular notions of racial inferiority.
7 Plaque, Site of Homer Plessy's Arrest
The Comité des Citoyens was a Civil Rights group formed in the 1880s. In 1892, they staged an action to challenge Louisiana's Separate Car Act, one of many laws enforcing racial segregation. Giving advance notice to the East Louisiana Railroad, the 7/8th white Comité member Homer Plessy bought a ticket for and sat in a train's first-class coach. The train went one block before the conductor summoned an officer to remove him, allowing Plessy standing to challenge the law. The disappointing conclusion was the US Supreme Court ruling Plessy v. Ferguson, which ushered in more than a half century of Jim Crow and 'separate but equal' infrastructure.
8 Statue of A.P. Tureaud
A native of New Orleans' 7th Ward, Alexander Pierre Tureaud was an employee of the Department of Justice and later attended law school at Howard University. In 1941, he successfully argued in McKelpin v. the Board of Education to have Black teachers paid the same salary as White teachers. He fought numerous cases to desegregate LSU, New Orleans schools, busses, parks, and restaurants, and represented the NAACP throughout the Civil Rights era. The bronze cast statue of Tureaud was made by New Orleans sculptor Sheleen P. Jones. The surrounding area is called A. P. Tureaud Civil Rights Memorial Park. At A.P. Tureaud and St. Bernard Ave., at N. Roman St.
9 New Zion Baptist Church
The Reverend Abraham Lincoln (A. L.) Davis became pastor of New Zion in 1935. From his pulpit, he fostered political action like the Orleans Parish Progressive Voters League. On Valentine's Day, 1957, the Southern Christian Leadership Conference was formally established here by nearly one-hundred participants, including Martin Luther King Jr. One of the most prominent Civil Rights groups of the 1960s, the SCLC was led by Dr. Martin Luther King until his assassination. A.L. Davis became the city's first African-American council member in 1975. At 2319 Third St.
10 McDonogh No. 19
In 1960, a Federal Judge ordered the Orleans Parish School Board to comply with Brown v. Board of Education to integrate public schools (the Archidiocese started integrating schools in the late 1950s). The State Legislature tried to delay integration by declaring the start day a school holiday, but Orleans Parish School Board opened schools anyway. On November 14th, Gail Etienne, Tessie Prevost, and Leona Tate integrated the all-White McDonogh 19. With no advance notice of which schools would be integrated, white students were at the school, but white parents withdrew their children as soon as the word was out.
The next day, Judge Leander Perez of St. Bernard Parish held a rally for white segregationists where he declared "Don't wait for your daughter to be raped by these Congolese. Don't wait until the burrheads are forced into your schools. Do something about it now." He raised funds for buses and donated a building to accommodate the white students. The three black girls were the only students for the rest of the year. At St. Claude Ave. at Alabo St.
11 William Frantz School
When Lucille Bridges heard that New Orleans schools were going to integrate, she convinced her husband Abon that the benefits to their daughter outweighed the risks. Six-year-old Ruby Bridges was the first Black student to integrate an elementary school in the South when U.S. Marshals sneaked her past state troopers on November 14, 1960; the incident is memorialized in Norman Rockwell's 1964 painting The Problem We All Live With. White parents removed their children and protested with signs like "Integration is a Moral Sin" and "All I want for Christmas is a Clean White School." Later in November, Daisy and James Gabrielle, both white, sent their daughter Yolanda to Frantz, but eventually left the city after James lost his job. Pam Foreman, another white girl and daughter of a Methodist minister, attended for the whole academic year, although she was in a different grade and classroom from Ruby. The next fall students attended integrated classrooms without the presence of security forces or protestors. At 3811 N. Galvez St.
12 Rev. Avery Alexander Monument
The monument commemorating Rev. Avery Alexander is near the site of one of his most famous protests: the 1963 sit-in at the segregated lunch counter in City Hall. While police removed two female sitters by carrying them out in their chairs, law enforcement dragged Alexander up the stairs and across the sidewalk by his heels. Photographs of this arrest formed part of a stream of media that awoke the country to police brutality and racial hatred.
Alexander helped to stage a successful boycott of Dryades Street businesses that refused to hire blacks to managerial positions. He served as a state legislator from 1976 until his death in 1999. Senate Bill 1039 created the Reverend Avery C. Alexander Plaza. The statue was made by New Orleans artist Sheleen P. Jones. At 1300 Perdido St.
13 Woolworths and McCrory's Sit-Ins
In the fall of 1960, members of the Congress of Racial Equality (CORE) staged sit-ins at the segregated lunch counters of Woolworths and McCrory Five and Ten Cent Store (now the Ruby Slipper). At the time, Canal Street was the premier shopping destination of New Orleans. At McCrory's, the group refused to leave, and were arrested. For two years, members of CORE picketed downtown stores until the businesses integrated. In 1963, Chief Justice Earl Warren issued a ruling based on the 14th Ammendment that stated, "There is no constitutional way…in which a State can license and supervise a business serving the public and endow it with the authority to manage that business on the basis of apartheid, which is foreign to our Constitution." At corner of Canal St. and Rampart St. and 1009 Canal St. (same block).
14 Oretha Castle Haley Boulevard/Ashé Cultural Arts Center
Oretha Castle Haley was a founding member of the Congress of Racial Equality (CORE) and later its president. She was also one of the members of the afore-mentioned McCrory's sit-in and organized a successful boycott of Dryades Street merchants. In the early 1960s, Dryades was the premier shopping area for black New Orleanians, but well-patronized white-owned stores would not hire blacks for managerial positions. In honor of her work and the successful boycott, Dryades Street was renamed in her honor in 1989. Ten years later, Ashé Cultural Arts Center opened in a former department store, marking a rebirth of the neighborhood and a celebration of African-American culture.