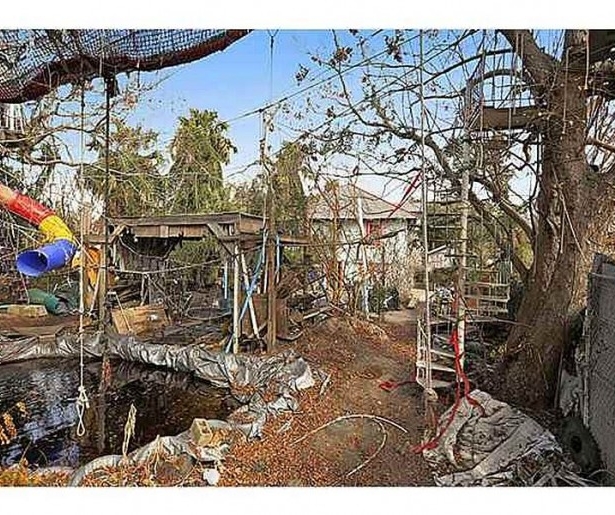 SHARE
I went to a party at 1614 Esplanade – the old NOLA Art House – in 2009. It was one of those eye-opening, only-in-New Orleans moments when you just think, damn. These are the kinds of people that call this city home.
What was the art house, you ask? A shared studio space for a bunch of bohemians. Folks who turned a Treme mansion into a Dr Seuss book smashed through a few sheets of acid. Artist Scott Pterodactyl did something special with that property. He let creative minds have their run of the land and the structure, fashioning something in between Pee Wee's playhouse and David Bowie's castle in Labyrinth. There were crazy rooms with eclectic art and fun house mirrors and twisting corridors and peeling paint and out back, a pool hew into the rock and a 50-foot tree interlaced with tubes, slides, spider webs made from bungee cords, hammocks, rope bridges and mesh beds.
And now all that can be yours. For $475,000.
Does the place need a little work? Sure; authorities shut down the art house for fire hazards, providing proof that even the most dedicated anarchist can't get away with everything in this town, despite all seeming evidence to the contrary. But c'mon. There's 17 bedrooms, four bathrooms and the most surreal playhouse this side of Jim Henson's blessed imagination (plus, the rumor that this was in fact the fabled House of the Rising Sun). Pony up some funds, folks – let's buy the Art House and bring it back to its madhouse weirdcap glory days.
Image courtesy of Gardner Realtors.