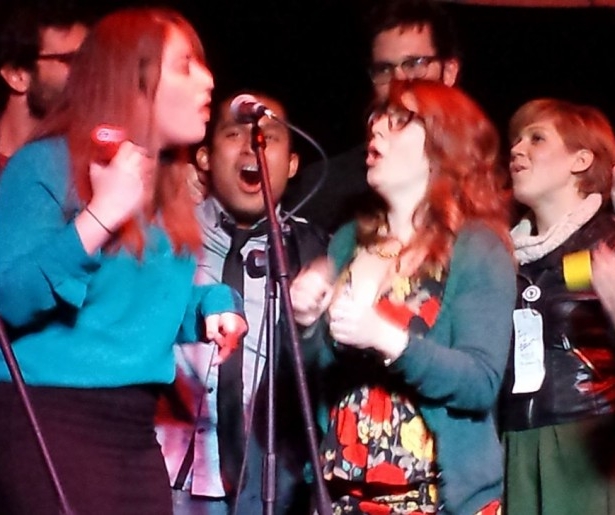 SHARE
Last night was a good night in New Orleans. I checked out the Sunken City premier party at the Freret St Publiq House around 8pm. A good sampling of some of the city's most talented, creative and ambitious individuals was on tap.
Actors, writers, community organizers, managers, business owners and the like – within 15 minutes, I had chatted with a program coordinator at the Arts Council, a self-starting Tulane MBA who was managing her own consulting firm, a local comedian working on his own sketch show and the creators of What the Sleepy Animals do at the Audubon Zoo, now in its third printing. Alexis and the Samurai played a great set, including a cover of Bon Iver's 'Skinny Love' that was frankly better than the original.
After the show, Sunken City co-creator and co-star CJ Hunt (pictured above, singing with Sunken City crew and cast) chatted with me. I congratulated him on the party, and we marveled at the crowd of impressive New Orleanians. CJ put it well; it felt like an almost critical mass of, and I'll paraphrase here, ¬_good_ , was building in the city. The trick, I thought, was keeping said good within the city. What happened when talent was recognized and some headhunter tried to poach it to New York? And yet, I thought, it seemed so much skill was purposely choosing New Orleans over those other places. The internet age means you don't have t be in Manhattan to make a splash. And some – certainly myself, and many transplants and natives who have returned home – have decided an affordable home, a caring community and a sense of civic engagement are a decent tradeoff.
Anyways, I think I was especially in love with New Orleans last night, although I will note, now and on the record: last night's crowd represented one relatively affluent slice of the city, and all the good I note doesn't mean much unless it can accessed by the region's population as a whole. Anyways, here are some other things to be happy about right now.
The Audubon Nature Center is coming back
It's a little criminal this New Orleans East institution has remained off the map since Katrina, but we're glad it's coming back home. Understanding a city begins with understanding the natural environment that birthed said city; this sort of knowledge is even more useful when the city in question is particularly at the mercy of the elements. The new center will include, to quote their press release, "a planetarium, an 8,500-square-foot Exhibit Pavilion, a glass and steel greenhouse Botany Center, classrooms, interactive educational exhibits, a network of trails and covered boardwalks and extensive landscaping." That sounds amazing – a perfect resource for kids and adults, and an excellent, urban-adjacent way of accessing the unique wetlands that our homes are built on and around.
More food, better food
The city's culinary profile continues to outstrip all standards for a town of this size. And while good food is coming to the places you expect – word is Butcher is going to expand by three sizes (rather like myself after having the Buckboard Bacon Melt – it's mainly arriving in residential areas. Places where tourists are far outnumbered by locals, if tourists are present at all. Take Mid-City, which just received Mopho, Ye Olde Bake Shoppe and Biscuits and Buns on Banks. Broadmoor got the Laurel st Bakery. The list goes on.
God, the arts
Our profile is growing like my hunger after reading the above paragraph. Authors are all around; on my reading list, Peter Ricchiuti is hitting Maple Street Books next week (Feb 6) to speak on the economy in the charmingly accessible way that makes him such a feature on WWNO's Out to Lunch. The Whole Gritty City is getting national acclaim. Queen of Bounce has been renewed for a second season.
We're engaged
Don't let anyone let you believe this city doesn't care about its future. The Bagneris/King/Landrieu race has some teeth. We have one of the finest outlets for local investigative journalism in the country. And however you feel about local sound ordinances, we're not shutting up about the music. Hell, some of us are making it a central issue of the next election.
OK, it's not perfect
Of course it isn't. My gripe this week? The ridiculous delays surrounding the Crescent Park. At this stage, the project is two years behind schedule, and somehow they've only just figured out the soil in the damn place was contaminated. Get it together, City Hall, or let the residents of the Bywater sort the issue out themselves. They did so with Markey Park and Clouet Gardens – another example of how in this town, the grassroots regularly out-grow and out-perform the top-down.