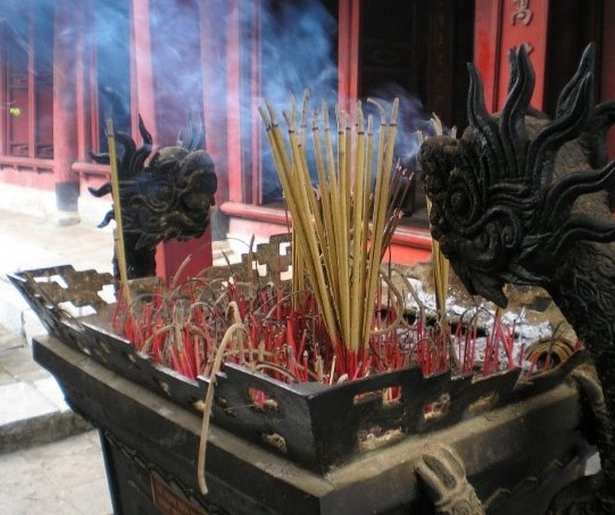 SHARE
New Orleans has come to feel like many different kinds of home to me. Some days the city is an old friend, finishing my sentences, nodding along knowingly. Other days I realize I'm essentially in a foreign country, full of exotic traditions and a kaleidoscope of dialects.
Perhaps it's just the quixotic nature of port cities to be able to shape-shift so effortlessly and so alluringly. But for the traveling kind, like myself, no place but New Orleans has truly satisfied this curious appetite I have. No other place could convince me to sit still and let all of the worlds out there come to me, as they do here, in one way or another, from around that sweet slow bend in the river.
One of the more poignant times of year for reveling in the multicultural and enchanting nature of our city is Vietnamese New Year, or Tet Nguyen Dan. For those who might not know, New Orleans has been home to a vibrant and industrious Vietnamese community since the 1970s. Now in its second and third generations, the population is strong and well-rooted in several corners of the city, namely Marrero, Woodlawn and New Orleans East.
These New Orleanians have established themselves as fishermen, farmers, restauranteurs and small business owners. They've adapted to the social and physical climate of this city while keeping important cultural traditions and family structures intact. Tet festivities are easily the most visible manifestation of what the Vietnamese population has built locally, showcasing music, art, delicious food, and most impressively, the palpable cohesion and cooperation that defines a strong community.
This year Tet falls on January 31st, the first day of the Lunar New Year, with weekends of celebration on either side to usher in 2014, The Year of the Horse. 'Happy New Year' in Vietnamese is the title of this article – Chuc Mung Nam Moi (pronounced Chook Moong Nahm Moo-ee) Although it has some religious overtones, Tet is celebrated by all faiths in Vietnam. With that said, much of the population here is either Catholic or Buddhist, so festivities tend to center around the church or the temple. Marrero and Woodlawn each have separate weekends of events, but the biggest and brightest will be at the Mary Queen of Vietnam Church on Dwyer Blvd in the Versailles neighborhood of New Orleans East.
Beginning Friday, February 7th (6:30 to 11 pm), the festival will transform a huge open lot across from the church into an amusement park of food and drink vendors, games and performances. Carrying over into Saturday and Sunday (February 8th and 9th, from noon until 10pm, there will be live stage performances featuring sequined pop stars, talent shows, and dragon dances. There are game booths and a photo booth with goofy props, troughs of ice cold Heineken, Budweiser, and Tiger beer, as well as a daiquiri machine or two of course. Entry to the festival is free, but you'll need to bring cash for the games and concessions, and you'll want to be prepared to EAT!
Those of us that live here know the magical healing properties of a good bowl of Pho after a long night, and are generally prepared to go to great lengths (the West Bank) to procure this elixir when in need. You can have your fill at Tet, sampling from dozens of different booths staffed by an army of ladies in aprons dancing between huge steaming pots. Other featured staples will include: banh mi, spring rolls, and thit dong (Vietnamese hog's head cheese). Tet also generally coincides with the early side of crawfish season, and there will be plenty of said crustaceans there to help get you back in the game, provided the arctic vortex didn't sent them all back into a chilly sleep.
If you're feeling adventurous, or have a chaperone, try the fertilized duck egg. Even after one exploded in my novice face last year, I still greatly look forward to this treat again. The process of eating one is a fantastical series of tapping and slurping that pays off huge when done right. A chef friend of mine once predicted that Vietnamese flavors will soon be a pronounced part of our definition of Creole food, and at an event like Tet one can begin to see how and why that's happening.
Most of all, just basking in the scene is reward enough: the older fellas cluster together over cans of beer, hordes of ecstatic children wielding fireworks dart quickly through the crowds like schools of sparkling fish, doing their part to scare away evil spirits and bring in a lucky New Year with the sheer volume of their laughter, the live music from the loud-speaker, the sequins, the slurping…all weave together to render one of those enchanting portraits of New Orleans, in one of her many forms.