POSTED Fri. Jan 31, 2014
Get your weekend on, New Orleans!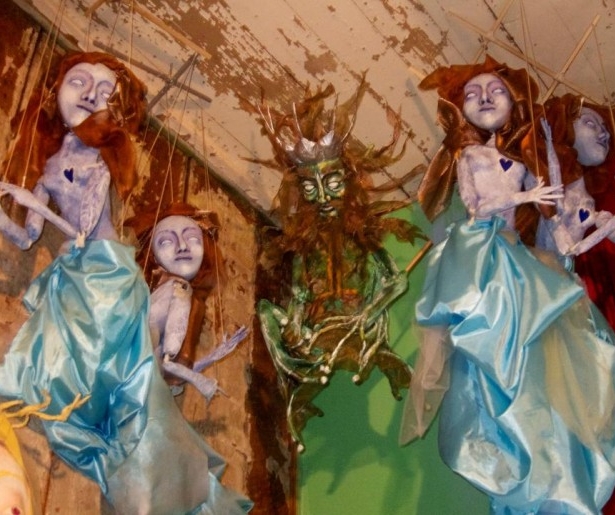 SHARE
Oh, it's on this weekend New Orleans. ON LIKE DONKEY KONG.
1 The Snow Queen - with puppets!
Those crazy cats at the Mudlark Theater, everyone's favorite surreal, Edward Gorey-esque, darkly gothic, sensationally magical puppet troupe (I'm on an adjective jag today) are presenting Hans Christian Andersen's Snow Queen at the Marigny Opera House (725 St Ferdinand). Shows are at 7pm, Fri-Sun. One more time: beloved fairy tale, fantastic puppetry, local theater. Wa-pa-pa-pa-pa-pa-pow.
2 A comedic tribute to Bey
At 10:30pm tonight, local comedian Chris Trew is putting together a tribute to Beyonce because why not? The show, whch will involve deconstructions of Queen Beys new album by the local comedy crowd (this could work, people) is gonna be at The New Movement (1919 Burgundy) at 10:30pm. Five bucks, and BY some OB.
3 Costume sale!
On Saturday from 9am-1pm, and on Sunday from 10am-1pm, there's an estate sale of New Orleans theater props and costumes at 545 St Charles Ave. If you're behind on your Mardi Gras costume (like me), this may be the event of the weekend.
4 House of Blues birthday bash
On Saturday, our own House of Blues (225 Decatur), the oldest venue in the chain, is celebrating its 20th birthday with a free concert by Kermit Ruffins Esq and the Barbeque Swingers, plus other guests. Show starts at 9pm, and did we mention it's free? If you haven't been inside H.O.B yet – I know a lot of you haven't, either because shows can be pricey or you think it's too mainstream (you damn hipsters) – consider going. The interior of the New Orleans branch is a genuinely cool concoction of voodoo imagery
5 Kittenbowl!
Sunday? Sunday, I'm watching the Superbowl. But before that, I might go to the "KITTENBOWL": http://www.jeffersonspca.org/new-orleans-kitten-bowl.html! Put on by the Jeff Parish SPCA at (of course) the Supurrdome, otherwise known as Jefferson Feed (4421 Jefferson Hwy). This 'adopt-a-thon' will feature the French Quarter Felines vs the Who Dat Cats, Mew Brees and a whole bunch of other cat puns I just can't bring myself to repeat. Get out there and find a beloved furry feline friend. On Saturday and Sunday, from 11am-3pm.