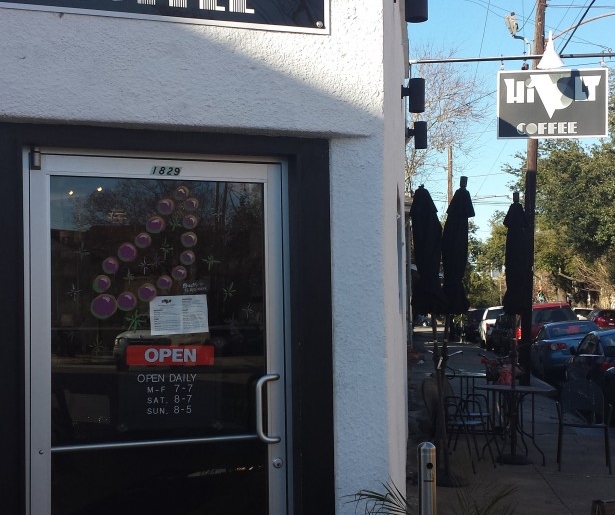 SHARE
I feel like there's some caffeinated irony in posting about a coffee place the day after Seattle wins the Superbowl, especially when the coffee place in question could so effortlessly slip into any number of Emerald City neighborhoods – an area like Wallingford or Fremont, where there's a mix of young families, hipsters and a smattering of students waiting to evolve into the first two options.
A neighborhood, in other words, that would be analogous to the Lower Garden District, which is where the café in question, HiVolt Coffee, is located.
First thing I like about HiVolt: this sign, which drew me while wandering the side streets of Sophie Wright Place .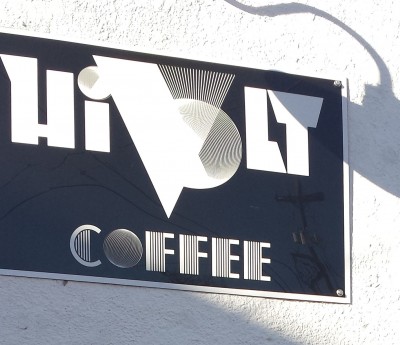 That's some classy deco ish. That's the sort of font Le Corbusier might have used on his wedding invitations. I love this storefront. I'm going in. It helps that HiVolt is by the Half Moon and The Saint, because I don't want to see third year Tulane law students just getting wasted in the LGD. Sometimes, I like to watch them sip coffee and talk intellectual like.
Which is the vibe inside; coffee house chic with a touch of deco, but not so overwhelmingly modernistic that's sterile. In fact, the deco stylings and panache give this spot a hint of nostalgia; if this is modernism, it's the modernism that precedes our contemporary post-modern. Future nostalgic, if that makes sense.
If it doesn't, check out the coffee.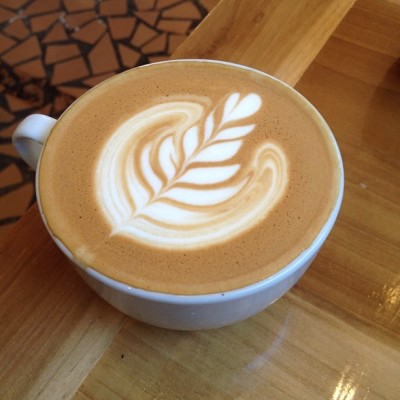 That's a pretty cup of Joe with a perfect tulip top. To reference the Pacific Northwest for hopefully he last time, a Seattle barista could do no better. And the coffee here is real deal, globally sourced, but brewed with the best local caffeine palette sensibilities in mind (i.e. strong). They offer pour-over brewing if you're inclined, which you should be. Also, there is food. Such food.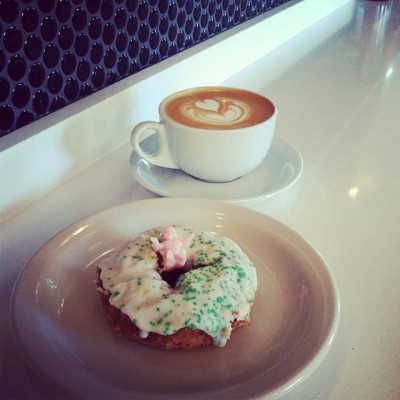 Why is there a baby on that donut? Not because the donut practices the rhythm method. Nope; that is a King Cake donut, and it combines the best frosted, creamy goodness of the King Cake with the portability and ease of consumption that characterizes the donut. I got one for my wife; she took a bite and the pastry proceeded to vanish with a quickness that would have made Houdini envious.
In short: HiVolt is great. What are you waiting for? Cool kid coffee shop in cool kid neighborhood where the next best java options are way down the street at Mojo's. Plus, I like that HiVolt isn't on Magazine. It's not hidden by any stretch, but tucked away as it is, this is the sort of spot that feels private enough to work in, and off the path enough to impress a visiting out of town friend. Enjoy, and save me a donut.
HiVolt Coffee
1829 Sophie Wright Place
7am – 7pm Mon-Fri, 8am-8pm Sat, 8am-2pm Sun
Some images courtesy of HiVolt Coffee