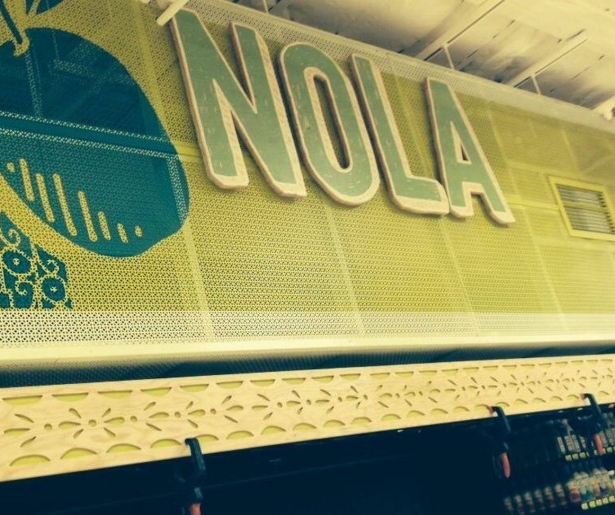 SHARE
I remember chatting with an urban planning friend about the cycle of gentrification. I'm fairly sure one of us snootily mentioned the Richard Campanella article that went viral a ways back, and then my buddy added this commentary.
"Adam, it goes like: artists. Then people who like artists. Then businesses. Then families. Then Whole Foods."
Others with us agreed. There may be some confusion as to the middle block of the gentrification pyramid, but we all knew that sitting on top, reclining in a handcrafted chaise-lounge made of locally sourced, sustainably harvested materials, would be Whole Foods. Hell, when I first moved to New Orleans, I lived in a spot off Eleonore and Chestnut, and one of the selling points of the house was, It' steps from the Whole Foods on Magazine."
Well re-arrange those pyramids y'all, because the city's newest Whole Foods opened today, in a decidedly yet to be gentrified swathe of the city at Broad and Bienville – site of an old Schwegmann's. If you're not familiar with the area, it's not the leafy, streetcar-accented slice of New Orleans romance you read about in guidebooks. It's major thoroughfares, concrete, empty lots and cars.
But it's also New Orleans, straddling Mid-City and the Tulane/Gravier area, which have a combined population of roughly 3000 families (data cited from GNOCDC). And those families are as entitled to fresh groceries as the rest of the city – although to be fair, I'm guessing the road accessible location of the store has a little to do with ease of access for people driving from other parts of town.
With that said, this pre-yuppification Whole Foods definitely doesn't fit the mold of other stores in the chain. The entire project has been half helmed by Broad Community Connections and its associated ReFresh project which ams to get fresh produce and healthy groceries to underserved neighborhoods. The Goldring Center for Culinary Medicine will be opening up across the way. There's a gumbo bar – sorry, my heart skipped a beat when I typed 'gumbo bar' – run by the youth at Liberty's Kitchen.
Good food. Easier access to groceries. Community building. I've said it before, I'll say it again: it's a good time to be in New Orleans. We're rearranging pyramids, urban life and out lives – I believe, for the better – one bowl of locally made gumbo at a time.
Whole Foods on Broad St
303 N Broad St
8am-10pm Mon-Sun
Images courtesy of Whole Foods