POSTED Thu. Feb 13, 2014
Looking back on last Mardi Gras...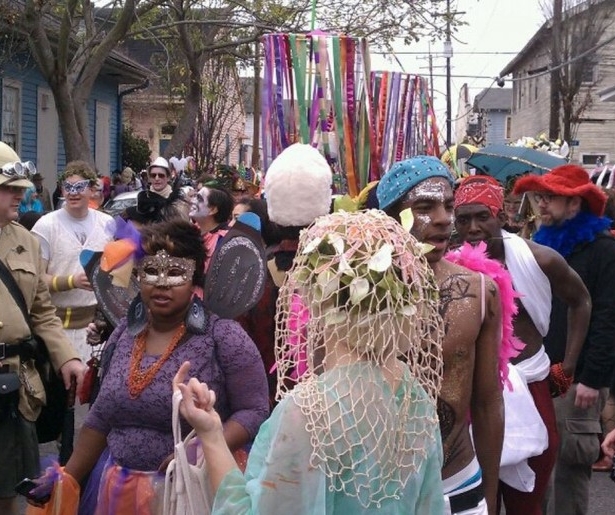 SHARE
Mardi Gras was exactly one year ago. I can't believe it. Why, it feels just like yesterday I was shaking off that 12-hour Ash Wednesday hangover. Anyways, as we approach a year's distance from last Mardi Gras, Krewe de Vieux rolls on Saturday. The Circle of Life closes, except instead of life, we have Carnival. Here's some stuff to look forward to between now and Mar 4. This is not, by any stretch, a comprehensive list of Carnival activities – just some of my personal favorites.
1 General weird sh#$.
Odd things will be popping up around town. Like this Monster Fish Bike on St Claude. I love you, Monster Fish Bike.
2 Show us your ticks.
By far the most adorable parade of the year, Barkus is when we dress up ourselves and our dogs. Barkus 'rolls' (and grunts, growls, whimpers and yips) through the Quarter on Feb 23; this year the theme is 'Dogzilla'. Dogs dressed as dinosaurs. Oh yes.
3 Red Beans & Rice becomes a parade.
During the Red Beans & Rice parade, locals dress up as Louisiana foodstuffs and icons, using, whenever possible, dried beans and rice. This is a walking parade that's open to everyone, and it manages to effectively marry the community feeling and off the wall wackiness that is the essence of the season.
4 The kids come out.
What every New Orleanian and seemingly no outsider knows is Mardi Gras is a family holiday first. It's mainly a time for folks to bring their kids out for some bead catching. The tykes are placed in homemade Mardi Gras ladders (pictured above – you can order them too) and stationed along St Charles Ave. So keep your shirts on, and always pass a throw back to the youngin's.
5 We parade anywhere. Even on the water.
On Monday, the Bayou Boat parade leads an aquatic Second Line along Bayou St John. It was my favorite moment of Mardi Gras last year, a tale I tell here.
6 The Big Day.
Mardi Gras is the most magical day of the universe in existence, and if you're not here for it, you're missing out. We'll see you in the Quarter.