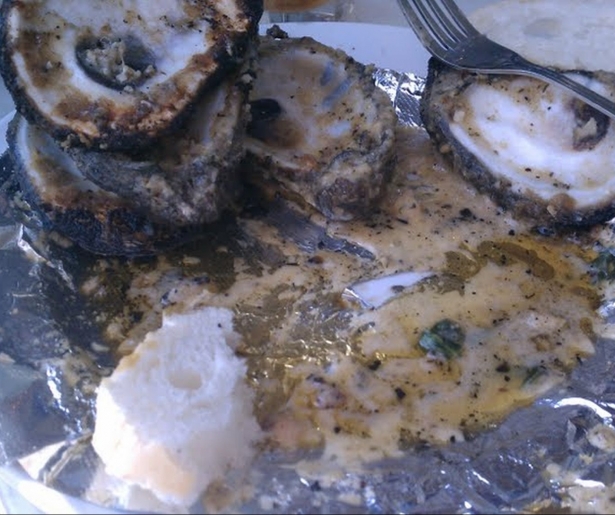 SHARE
I'm extremely embarrassed to write this: prior to last weekend, I had never been to Katie's in Mid-City. Katie's. Not exactly a hidden hole in the wall on some random block in Jefferson. It was Best of Foursquare 2012. It's been on Diners, Drive-Ins and Dives. If Guy Fieri's sweaty, frosted locks have graced an establishment, you can't exactly say it's an undiscovered gem.
But it was to me. I'm sorry, universe. New Orleans is a small city. There are lots of restaurants and bars and music joints, yes — but when you live here, you tend to love your favorites. When you comfortably exist in a Boucherie-carved groove, you're not liable to depart that happy valley for untested culinary waters. Yea, I am a sinner at the shrine of not venturing outside my gastro-comfort zone.
Right, this is a Catholic town, but that's enough mea cupa.
When my fiancee told her co-worker, a born and bred Yat, that she loved the barbequed shrimp at Liuzza's, he countered, "Next time you go to Liuzza's, just turn left. And head to Katie's." On Sunday morning, we took said advice.
Brunch was packed. Lines out the door (see above). In the best New Orleans traditions, the patrons in said lines were downing enormous Bloody Marys (side grammar nerd note: I had to look up the plural of 'Bloody Mary.' I really thought it would be 'Bloody Maries.') and mimosas. Good, Mid-City-ish demographic gumbo: a few hipsters in wayfarers, a few idle aged folks religiously wearing LSU gear on a Sunday, even if there was no game going. Everyone, as mentioned above, a bit tanked.
How long were the lines? 45 minutes to get in. Diz-am. Those are DC brunch lines. That's an unaccountably wait if you do not intend to join the ranks of the sloshed, and fiancée and I did not (we had a long day of errands in front of us that required a semblance of sobriety). We tried hovering by the bar for empty stools, but the interior of Katie's was slammed, and as drunk as our fellow New Orleanians were at 11am, they were focused in on those stools too with all the laser precision of a guided missile strike and unapologetic hungerlust of a pack of hyenas. Bless them.
I won't bleed on the page about everything we ordered, which amounted to the contents of a small farm and slaughterhouse. Suffice to say: Katie's does excellent New Orleans cuisine. It's rich, it's intense, and to be frank, it's unapologetically bad for you. It tastes divine and it is served in enormous portions by friendly people. It is not minimalist modernist artfully presented bullshit that focuses more an appearance than taste, and that is good and proper.
I will say this: one appetizer in particular stood out. In a city of decadent dishes, the Oysters Slessinger are the Sodom and Gomorrah of starters. The description is simple: char-grilled oysters with melted cheese, shrimp, bacon, spinach and butter.
Butter. So much butter. Butter enough to spread on the bread of the Gods. Butter in such quantities as to make a strong Wisconsin dairy farmer shed a tear. Look at my picture above. That's after I literally cleaned every oyster on our late clean with my tongue (sorry, fiancée) like a junkie desperately grasping for a last hit on a pipe. I was pathetic; I had degenerated to the hyena-esque state already inhabited by the Katie's bar stool swoopers I describe above. Now I knew where they were coming from. Were they hyenas? Fine; I would be a goddamn elephant, charging through their ranks for the last Oysters Slessinger on the Serengeti.
Look at that picture! The butter is still there, despite my fevered hunger. It was still pooling out of the shells, and the miserly six slices of toasted baguette that came with the dish barely sopped a dent. You would need a loaf of the thickest Russian bread, the sort of dark loaves Soviet soldiers could live off of for months, to absorb all that butter.
I can't stop thinking of you, Katie's. You or your Oysters Slessinger. Let's get married — my fiancée may approve, it'd be like Big Love — and have little delicious char-grilled oyster babies. I'm yours forever.