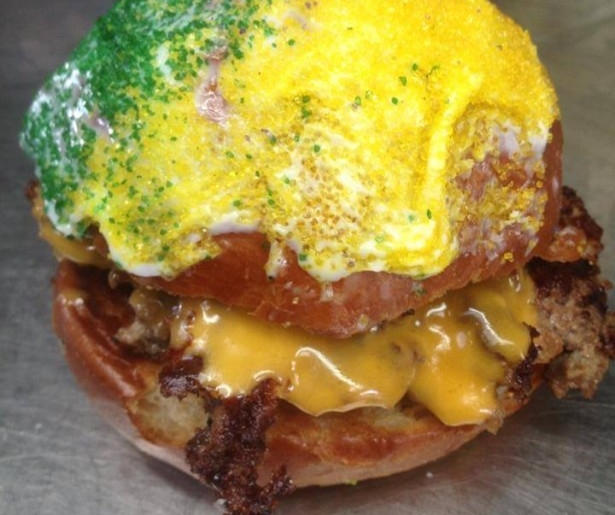 SHARE
I like to rabbit on about New Orleans, indulgence and the powers of unrestrained hedonism, but do you see the above? DO YOU SEE THIS MONSTROSITY?! It's a King Cake Burger. A King Cake Burger, courtesy of the folks at the Food Drunk food truck.
But no. NO scream the better angels of my nature. This thing is an abomination. One should no sooner marry King Cake and beef than pork chops and ice cream. Just because two things are great – that doesn't mean they go great together, or that their greatness can somehow become amplified via agglutination.
Yet I'm tempted. The devil pops up again. Isn't carnival, he argues, all about consuming as much as possible, especially meat (carnival – from carne vale, or farewell to flesh, a reference to both Christ and the sacrifice of Lent)? And as such, isn't it being true to the roots of carnival to consume a King Cake Burger? Isn't the King Cake Burger, which combines the banned meat of Lenten and the signature pastry of Mardi Gras, in fact the ultimate carnival culinary creation?
Well, there's a reason I took philosophy classes. Logic does seem to clearly dictate I eat a King Cake Burger. But I'm still worried it's gonna taste like a hot mess. Then again, being a hot mess is pretty quintessentially carnival. Bon app!
Images courtesy of Food Drunk.