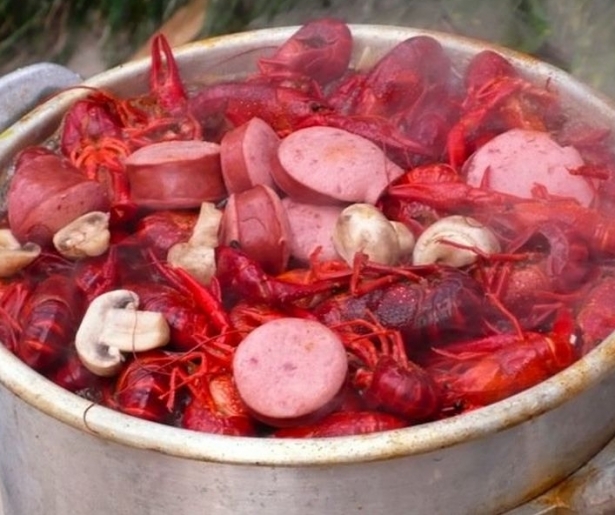 SHARE
It's crawfish season again!
From late February to early June, one of New Orleans' most beloved native foods is in season, and abundant. The crawfish boil is a tradition that holds a special place in our culture. Along with friends and family, we gather outdoors around newspaper-covered tables, peeling and eating until we pass out. Though the crawfish boil wasn't always as popular as it is today, eating crawfish in Louisiana dates all the way back to pre-colonial times.
Though the Acadians (ancestors of the Cajuns) are often credited with bringing crawfish to Louisiana, Native Americans were eating the shellfish long before European arrival. Local tribes would put reeds baited with deer meat into creeks and ponds to catch crawfish.
The Acadians arrived in Louisiana after the Great Expulsion in 1755. Hailing from the Canadian Maritime provinces, seafood had already been a staple of their diet. Upon arriving in Louisiana, the Acadians settled along the bayous, where crawfish were abundant in the slow moving water.
The Acadian familiarity with lobster and previous fishing experience, plus the afore-mentioned contact with local Native Americans, led to the introduction of crawfish into the Acadian diet. And as the Acadians became the Cajuns, the tradition of eating crawfish continued, leading to the popular methods of consuming the crustaceans today.
Commercial sales of crawfish did not begin until the late 1800s. This is partly due to the use of nets, which allowed a larger, less time consuming harvest. But until approximately the 1960s, crawfish was largely stigmatized as ''poor man's food''. It was mostly consumed in rural areas amongst poorer demographics. For many, crawfish was nothing more than bait.
When I spoke to a friend who grew up in Houma, LA, he recalled a time when crawfish was 5 cents per pound. When the price rose to 25 cents per pound in 1960 (about $2 per pound in 2013 dollars), he figured that was the end of crawfish sales forever. Today you'd be hard pressed to find crawfish for sale in New Orleans for less than $2.50 per pound.
In 1960, the first Breaux Bridge Crawfish Festival was held after Breaux Bridge, was named the crawfish capitol of the world. The festival began as a campaign to improve the public impression of crawfish. It worked; crawfish became increasingly popular. Restaurants began incorporating the crustacean onto to their menus, and dishes such as crawfish etouffee became a local fixture. Along with the growing popularity of Cajun food and culture, crawfish consumption also began to rise.
In 1972 Louisiana elected its first Cajun governor, Edwin Edwards, whose campaign slogan was "Cajun Power!" That slogan occasionally appeared with a clenched fist image, similar to the black power symbol — except the fist gripped a crawfish. In 1983, the crawfish was designated the Louisiana state crustacean, making Louisiana the first state to have a state crustacean; only Maryland and Oregon have followed the trend.
Today many rice farmers grow crawfish alongside their rice crop. The muddy ponds rice is grown in are a perfect environment for crawfish. Demand for crawfish has grown so high that crawfish farming is now required for meeting consumer need. Roughly 90% of all crawfish coming from Louisiana is farmed, creating a $120 million a year industry.
But most importantly, the little mudbugs have become inextricably woven into our culture and traditions. They're iconic. And come spring, they're something we can't live without.