POSTED Mon. Feb 24, 2014
Carnival exploded over the weekend.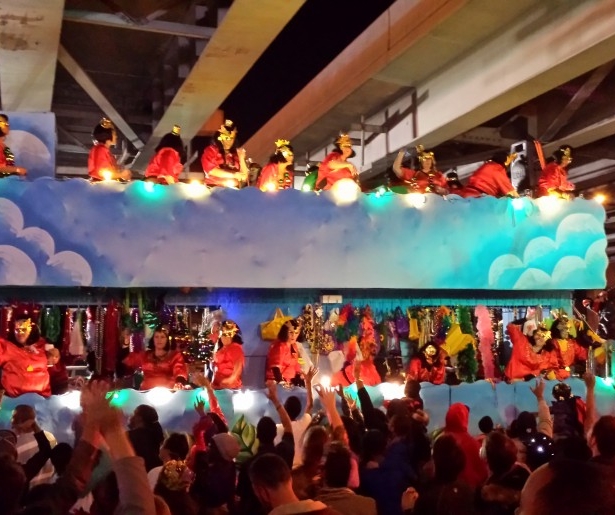 SHARE
It was as if a glittery, feathered, be-dazzled party beast spewed fairy dust all over the city. Here's some shots from the celebrations, in vaguely chronological order. Note that I'm adding a separate entry for Chewbacchus — that krewe brings such passion, innovation, creativity and heart they deserve another level of recognition.
1 Oshun
First, l always watch Uptown parades under the I-10 overpass. You just can't get better sound, and I've noticed the marching bands seem to save up their horns for some highway-amplified acoustics. Edna Karr gave a ridiculous performance on Friday evening during the Cleopatra parade. That said, this shot is from Oshun, named for the Yoruban goddess of love, beauty, wealth, intimacy and diplomacy. Oshun is a primarily African American krewe, and their floats this year referenced African mythology, folklore and traditional religion, including this float depicting Shango, the Yoruba ancestor god of fire and thunder.
2 Cleopatra
Cleopatra rolled deep, with plenty of floats and throws. Also: hey tourists, see what's happening here? The krewe members are giving throws to kids. Never try to take a throw from a kid. Never get in front of kids who are reaching for throws. Mardi Gras is for them waaaaay before it's for you.
3 Krewe de Lune at Pygmalion
Full disclosure: I'm in this krewe. But whatever. We brought an awesome dose of Burning Man and St Anne sensibility to the Uptown Pygmalion parade. Photo courtesy of Travis Cleaver.
4 Super brunch!
That's a king cake ensconcing buttermilk drops, all from The Buttermilk Drop Bakery. To say this Sunday meal was incredible would be the grossest of understatements.
5 Barkus!
I know I shouldn't keep posting pictures of my dog, but we dressed her up for Barkus and oh my stars, she's the cutest thing on four legs.
6 This is New Orleans
I love everything about this photo: the smoking lady in a tutu, the Barkus dogs, the river. This photo's got love for New Orleans like wow.
7 Barkus reversed
I love this Barkus costume – in this case, the dog owner (of some lovely Louisiana catahoulas) has dressed up like his pets, rather than (like yours truly) getting said pets into a ridiculous get up.