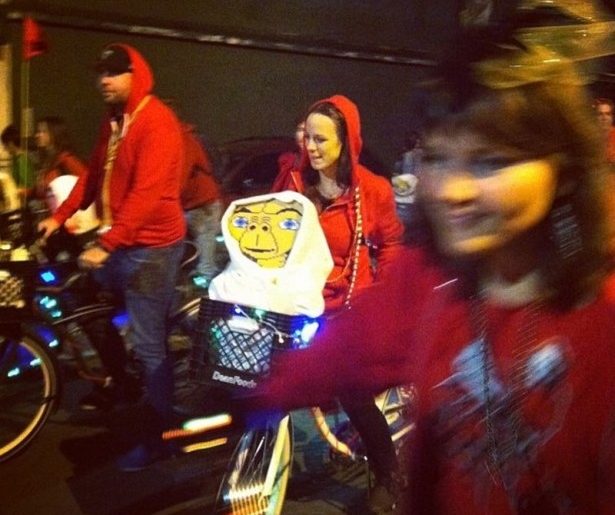 SHARE
It's hard for me to convey how wonderful the Intergalactic Krewe of Chewbacchus is. This sci-fi themed society consistently creates one of the most imaginative, heartfelt and simply fun Mardi Gras experiences of carnival. You don't have to be into sci-fi to appreciate how mind-blowing their costumes, throws and general aesthetic is. Above you see the Rolling Elliots – a sub-krewe themed off the red-hooded sweatshirt-plus-bicycle-plus-Elliot iconic imagery of E.T. I'm copying the following post off of ther facebook page, which nails all of my thoughts on this krewe, and articulates the massive well of heartfelt love that exists for this very special organization:
I was hoping that maybe you could pass along a message to everyone by posting it for me and letting everyone know that it is from a fan. I just truly want to let everyone know how amazing the experience was from our perspective and say THANK YOU for a perfect night!
Last night's [Chewbacchus] parade was AMAZING!!! I am a native New Orleanian, but in all my 39 years I have never had such an awesome Mardi Gras experience. We were all discussing on our drive home what made it so wonderful. It wasn't just that we love scifi. This parade has a completely different vibe from any other. Other people pay thousands of dollars on membership dues, ball gowns, and store bought throws for mostly selfish reasons. Once a year they can get gleefully drunk while hundreds of thousands of people scream for them as if they are Gods. I have nothing against that. I love it too. We have participated in that and it is a blast. But [Chewbacchus] members do it for different reasons…a love of NOLA, a love of Mard Gras, a love of the characters they are portraying, and a love for the people in the crowd who share their passions. If you didn't do it for the love of those things, you wouldn't take all that time crafting your own throws, costumes, and "floats". The day after a typical parade my kids could care less about the usual throws. But today they are so proud of their treasures from last night. I was with 7 kids last night who have NEVER enjoyed a parade so much. THANK YOU for all of your hard work and dedication to bring such joy to so many last night. It is people like YOU who make this city the most amazing home on Earth.
International Krewe of Chewbacchus has absolutely just became the #1 Mardi Gras tradition for 2 happy families of nerds!
Photo courtesy of Colleen McHugh.