POSTED Tue. Feb 25, 2014
How to tell if Mardi Gras is around the corner.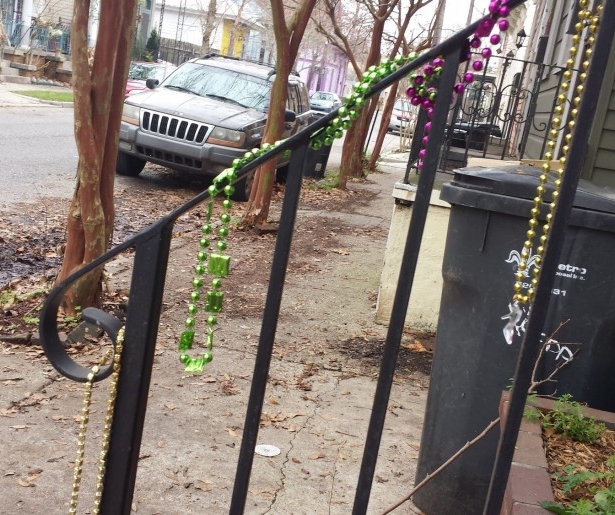 SHARE
Note that none of the below reasons involve any sighting of anyone taking their shirts off. Keep your clothes on, tourists. Mardi Gras ain't about your chest – it's mainly about our children. Well, that and a whole mess of feathers, beads and tutus. And OK, a fair bit of booze.
1 "Ladders are in"
Spotted Uptown. Mardi Gras ladders are a crucial component of the parade watching experience if you are under 8 years old, four feet tall or a Tulane frat boy who feels the need to climb on something. NOPE. Kidding about that last part – get off the ladder, Chet, and let the kids catch the beads.
2 Beads - decorative and functional.
I do love how this city uses beads to decorate our houses, trees and traffic signs, and occasionally, as seen in this picture, serve as a load bearing device. But seriously: recycle your beads, everyone. It's massively wasteful to toss out all that plastic when we're just tossing it out to strangers again next year. Head to the Arc of Greater New Orleans for more details.
3 Boas for sale
Not only is there a sale, but there's a sale s at Mardi Gras Zone.
4 Sparkly dogs
It's getting close to carnival when people dress up. It's definitely carnival when the animals get decked out.
5 Breaking out the costume box
What do New Orleanians keep in their attics, garages and closets? All of the normal storage stuff you'd find everywhere, but also: costume boxes. I just got mine out. Time to come up with some crazy.