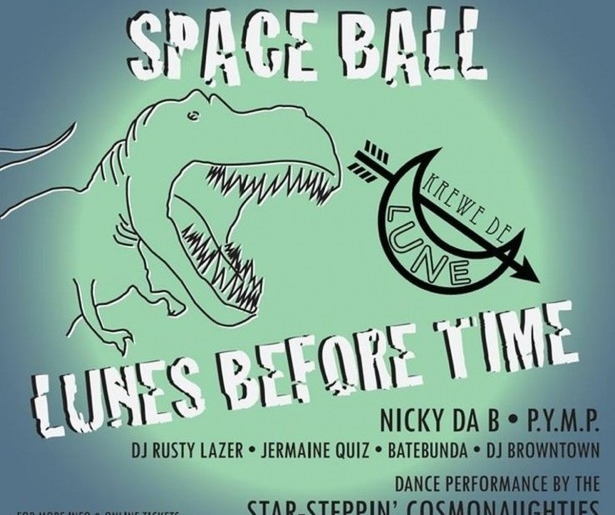 SHARE
Oh, snapple. Krewe de Lune is putting on its annual Space Ball in Café Istanbul (2372 St Claude) tonight, from 9pm-3am. What's on tap? Well, the theme is Lunes Before Time, which basically means the theme is Space Dinosaurs, so yeah. Space Dinosaurs. Oh, but Adam, Space Dinosaurs aren't a thing. Well, the top dinosaur scientist ever has four words for you: Life finds a way.
Besides space dinosaurs (I never thought I needed anything in life besides space dinosaurs, by the way), the Star-Steppin' Cosmonaughties are dancing, while Jermaine Quiz, Katey Red, P.Y.M.P., DJ Rusty Lazer, Batebunda and DJ Browntown are all on deck.
Tickets are $25 in advance or $30 at the door, and get you an open bar, because open bar. Plus, the wristbands are good for two for one bottles of PBR at Kajun's, which is clearly where you're gonna end up after the party. That said, the wristbands will not save your dignity when you tear into that cover of Don't Stop Believin' while dressed as a moon-roving pterodactyl, which has been scientifically proven to be the best way to end a Friday night.*
Tickets can be purchased from a krewe member or at Idle Hands Tattoo Parlour (1815 Magazine), the Other Bar (5039 Freret), and Café Istanbul. Or buy tickets online up til 5pm via Krewe De Lune. Oh, and come in costume, duh.
*No, not really.