POSTED Fri. Feb 28, 2014
Mardi Gras weekend is here!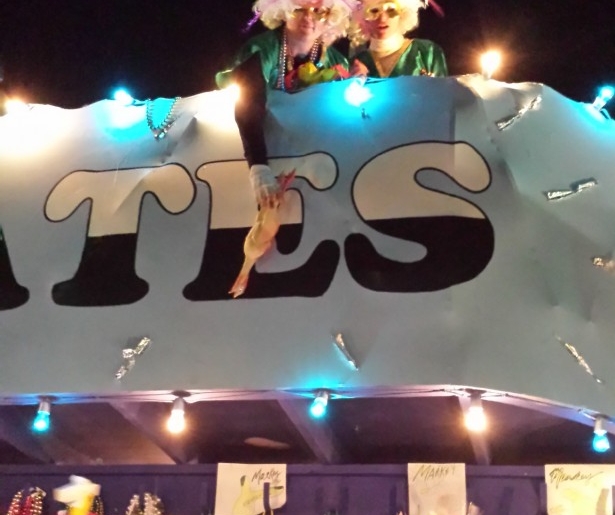 SHARE
Well, the big weekend is here. The beginning of the marathon – and always remember, Mardi Gras weekend is a marathon, not a sprint – the pistol that sets us off the long track to ultimate debauchery and an Ash Wednesday morning soaked in whiskey, feathers, glitter and (hopefully not too much) regret.
Was that a little purple? That was a little purple. Let me rephrase: Mardi Gras weekend is here, and it's time to get your crazy on. Just try not to crazy too crazy so you can crazy more on Crazy Day (Tuesday).
PS – Our cover image is of Thursday's Muses parade; while this isn't technically the weekend, we just wanted to share a nice shot of the action.
1 Free music at Howlin' Wolf all weekend
The Howlin' Wolf is having free shows all weekend up till Lundi Gras. Rebirth is playing Friday and Saturday, Dumpstaphunk brings it on Sunday, and George Porter Jr takes over on Monday. All shows – and did we mention they're free, because they're free – start at 10pm. Image courtesy of Dumpstaphunk.
2 Not So Super Superhero Party
Now a bit of an annual thing, the Not So Super Superhero Party is a throw down epic proportions for folks dressed as comic book characters who lack epic proportions. Or are, in fact, too epically proportioned. Basically: come to the AllWays Lounge after 9pm on Feb 28 (Fri) dressed as a made up superhero – in point of fact, a lame superhero (i.e. Parking Guy, the guy who escapes parking tickets. That was terrible. You can do better). Pay $10 cover. See The Mike Dillon Band, Rotary Downs, The Natural Light All Stars and Not So Elvis. Boom. Fun times.
3 Endymion party at Twelve Mile Limit
Want to see Endymion on Saturday but don't know where to watch? How about Twelve Mile Limit (500 S Telemachus), one of the best neighborhood bars in the city? You'll be amidst good people, better drinks, nice ambiance, the Frencheeze and La Cocinita food trucks and did we mention the drinks because the drinks, the drinks. Seriously, Twelve Mile has some of the best bartenders in town. Party goes from 2-10pm. Image courtesy of Twelve Mile Limit.
4 Siberia is blowing up on Saturday
Katey Red, King James & the Special Men and Chilldren, one of the strangest, most unlikely yet completely awesome set lists ever devised, is tearing it up at Siberia on Saturday (Mar 1) at 10pm. Take your Endymion beads and get ready to twerk, jive an otherwise break it down like a clown. Image courtesy of Katey Red.
5 Wild Magnolias at d.b.a
Catching Mardi Gras Indians in full suit is a treat of any Mardi Gras, but if you're not going to try and spot some tribes, the next best thing is to see Big Chief Monk Boudreaux, Bo Dollis and the Wild Magnolias doing their chant thing at d.b.a on Sunday (Mar 2) at 10pm. Indians in full chant is a sight that is rooted in deep New Orleans backstreet culture; this is the sort of show that will remind you you're in America still, and in a lot of ways, somewhere very different. Image courtesy of Bo Dollis.
6 Battle of the Bands at Hi Ho
It'll be like Thunderdome! But with local bands an Yiddish derived music! Pass the schmaltz: on Sunday (Mar 2), Rory Danger and the Danger Dangers are going up against the New Orleans Klezmer All-Stars in a WINTER BATTLE OF THE BANDS! Oughta be a trip of a gig; show is at the Hi Ho at 10pm.