POSTED Thu. Mar 6, 2014
A visual carnival for carnival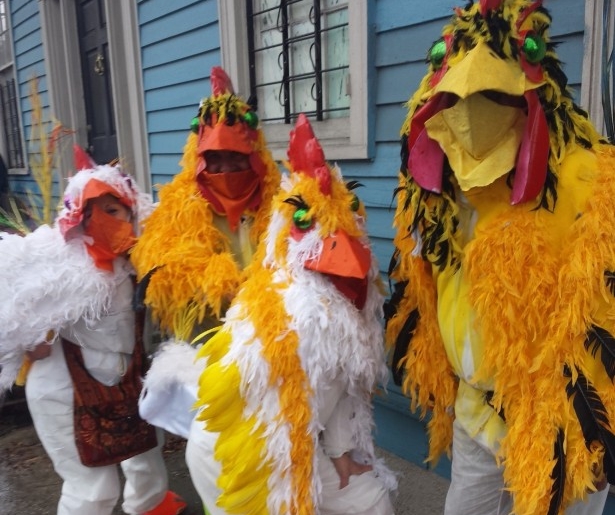 SHARE
Mardi Gras, as ever, is always a feast for the sense. In this vein: some of our favorite images and costumes, compiled from Lundi and Mardi Gras.
1 Unwieldy costumes are sometimes the most beautiful
I actually saw the contraption on this guy's back being driven around the Bywater on Lundi Gras morning. I wondered if the thing – a sort of giant cardboard Adidas logo – would be part of a costume. Of course it was, and for the Red Beans & Rice parade, no less.
2 Pun-y themed group costumes are always a win
Well played, thou literary 'beans,' but I was kinda shocked no one did "The Unbearable Lightness of Bean." Then again, that's a lot of letters made of dried Camellias.
3 Wearing Louisiana on your sleeve, as it were
My favorite costume of perhaps all of carnival: a cypress tree growing out of the marsh over an outline of the state as a bird flies overhead. All made of beans.
4 Monday music before the big day
Aurora Nealand killing it as Maison on Lundi Gras night (perhaps we could dub that Mardi Gras Eve?).
5 Oh, you
This guy. Near the port-a-potties at the start of the St Anne parade.
6 Keeping dry during the rainiest Mardi Gras in recent memory
The rain, let's face it, made any kind of walking parade pretty miserable. Umbrellas were the order of the day, including umbrellas that could protect you, your partner and your ride.
7 Costuming the cold
These folks came dressed as the Polar Vortex, which may have been the most timely costume of the day.
8 Danser pour un poulet
You don't necessarily have to head to Cajun country to catch a chicken on Mardi Gras day.