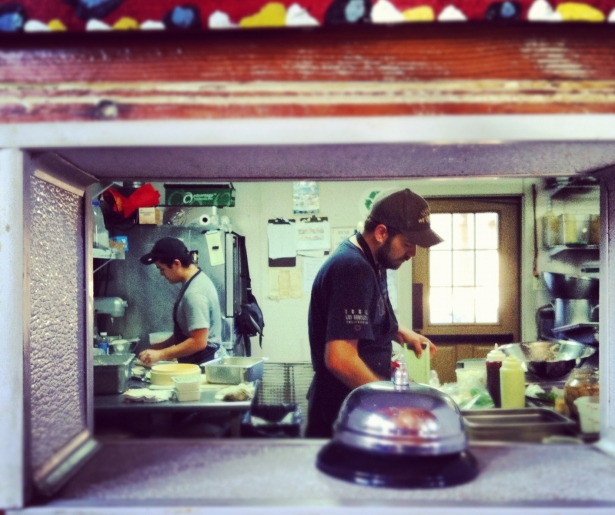 SHARE
Something about the term "pop-up" has always made me a little skittish. Like when a DJ describes a band by splicing together other bands. Or when a food critic uses the word "twist" too many times. It's hard to put my finger on, and I probably just sound like a curmudgeonly old lady, but something about it feels constrictive. Maybe the term just took up residence in our vocabulary too easily, and I don't trust it's wily innocence. I like words to earn their seats. I like descriptions to describe. Maybe I should have never taken that linguistics class in college.
At any rate, as a veteran of the restaurant industry, I want to be lured by the fare, not the scene, as I'm sure is the case with most others. Alas, there's no fighting it. The term pop-up has found its sea legs and is here to stay. And in fairness, from an aerial view of almost any city in the country right now, it's an accurate description. There are little blips of food events, hawkings, slingings, mobile menus, and squats; a veritable radar screen of happenings, popping up in a flash and fading quickly, as another nearby captures the eye. Culinary firework shows.
In practice, they're a pretty exciting form of restaurant. A crew can stretch their legs, play with things they maybe couldn't afford to risk in a more permanent endeavor. There are rogue elements and unpredictable challenges. For the adrenaline junkies that many of us are in this business, this can be an especially good time. Or a sharp, practical learning curve for the less experienced, who are dreaming of their own place someday and want to take the idea out on a date first. This model has proven successful for several of our city's restaurateurs, like Pizza Delicious, Boucherie or Noodle and Pie.
Oh yeah, and pop ups are really fun. They harness the spontaneity of a block party, the feeling that you're getting away with something, while simultaneously getting in on something, making new friends, trying food you've never seen before, or from the hands of a cook who's never had his own range before. There's a lot to love about these gigs, both for the diner and for the crew.
New Orleans is amassing an impressive roster of adventurous, nomadic food events, and I could easily write a separate post about each one of them. The trajectory of the chefs, the venues, and the menus are ripe with triumph, tragedy, intrigue, coincidence, and perseverance. The nature of these events tugs, I think, at something in all of us that roots for the underdog, for an enterprising passion, dogged focus, and of course, mischief.
For the visitor or the resident, each week offers several chances to get some renegade food action. From food truck round-ups, to elegant 6-course dinner parties, the fare varies wildly. Keeping track of all the action around town can be a little daunting, as a lot of the news about these happenings travel by word of mouth. Eater NOLA is an excellent, constantly updated source of food gossip, and Facebook pages and Twitter help to keep followers informed.
Here's a short list of NOLA pop-ups, self-consciously starting with Dim Sum and Then Some, a monthly food event I run with Matt Hayashi at the Joint. I'll not compromise this post with a bunch of horn-tooting, but so as not to break my own rules, I should describe the food (Ed note: It's bloody amazing).
The menu is a collection of small dishes, most easily described as Asian bar food. Taking our main inspiration from Chinese Dim Sum cuisine, we always feature several kinds of dumplings, rolls, or potstickers, and the staple char siu bao (steamed, smoked pork buns). While we lack the means to serve off the traditional Dim Sum cart, the food is all best enjoyed in that same style of everyone sharing, and thus being able to try bites of as many things as possible. There's usually a salad, and a soup, both of varying regional origin, and then the larger plates of Japanese fried chicken, and Korean bulgogi burger.
There are typically a few specials thrown in to the mix, to allow us to play with a new ingredient, like octopus, or beef tongue. The flavors are bold, with lots of chili, sesame, ginger and garlic used in our dishes. And while we do stray from some of the traditional renditions, it's not done recklessly or brashly. Folks seem to have a good time (insert smiley face here).
Other places around town that I'd definitely recommend getting in that line for when they pop up on the radar screen:
Gemelli's: Italian family style, Monthly (Monday) @ Lilette, Magazine St
Photos by Amie Marvel