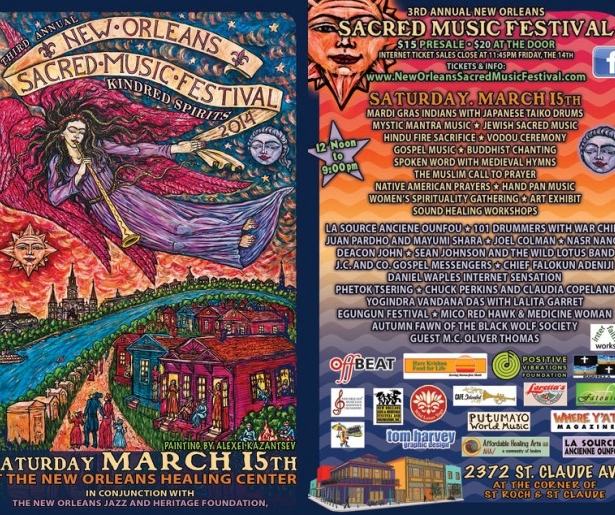 SHARE
New Orleans music is often associated with New Orleans pleasures. Jazz developed in Storyville amidst brothels and drug dens; the blues is intertwined with booze and stories of guitar players selling their souls to the devil; swamp pop was considered a temptation for good country kids and bounce is proudly hypersexual.
But our auditory ancestors come equally from places of salvation as well as sin. The sounds of praise, worship and devotion are notes in the greater New Orleans song, and as such, the 3rd Annual Sacred Music Festival will be held at the Healing Center (2372 St Claude) on Saturday, Mar 15.
What to expect? Music of faith from all over the world. Jewish cantors, Hindu fire puja, Buddhist chanting, the Muslim call to prayer, Native American prayers, Mardi Gras Indians and Japanese taiko drums and of course, a good dose of gospel. In short, many cultural rivers will flow into the greater ocean of New Orleans sound. Ought to be amazing. Tickets are $15 in advance or $20 at the door, and the show goes from noon-9pm.