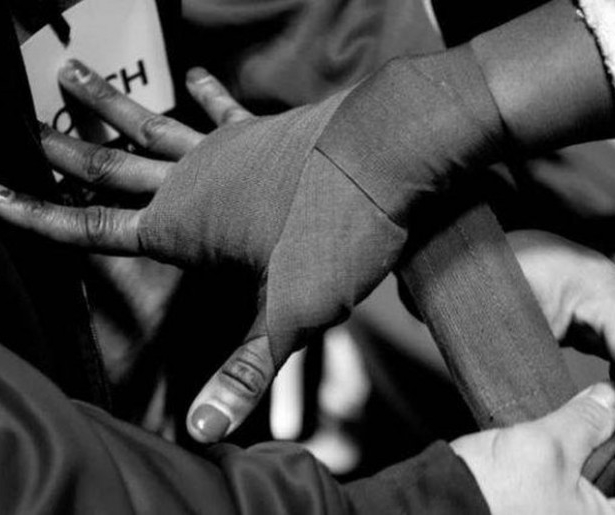 SHARE
It's almost ten years since the film Million Dollar Baby graced our cinema screens, Hilary Swank playing a female boxer who navigates a sentimental course from glory to tragedy, in a film that I always think should have been called 'Frocky'.
I apologize. That's a little glib, and even saying 'female boxer' sounds rightly out of time, like when that Fox News anchor recently referred to a city's 'lady mayor'. I think she would prefer 'mayor'. So we'll just call them 'boxers'. Especially when they could probably (for which, read 'definitely') do me a severe physical discourtesy as soon as look at me.
I'm having lunch with boxing enthusiast Miriam Belblidia, a three-year veteran of the ring and to be fair, she's yet to throw a jab in my direction. She's the founder of a new facility, the Bywater Boxing Club, a community-oriented, politically-conscious new gym that is setting itself social, as well as physical goals.
She's turned out like any business professional, and doesn't at all look like she takes a pugilistic pounding on a regular basis. "There are many misconceptions about boxing," she says. "It's not really about fighting, it's about discipline. It's empowering, you feel strong and apart from anything else it's a really good workout."
Traditional gyms, though, aren't always the most welcoming place for a woman. "Lots of gyms can feel like meat markets," says Belblidia. "I just didn't feel super comfortable in the ones I used to go to. As a queer woman, I guess I just wanted…well, more spaces for people like me."
Belblidia previously trained uptown on Freret Street (home to the popular Friday Night Fights series) with her sporting mentor Demond Brock. Her record isn't troubling the record books just yet, standing as it does at one fight and one loss. She laughs: "I fought. I didn't win. But I learned how to take a punch."
This already sounds like the perfect preparation for launching a new business and squaring up to the bureaucratic heavyweights at City Hall. Beblidia already runs a successful water management operation but that was apparently going too smoothly for her liking. As she says, "That enterprise was no longer terrifying, so I wanted to start something that was terrifying as soon as I could."
The early stages of the project happened with lightening speed, a dizzying combination of punches that somehow all seemed to land. In early December, Belblidia floated the idea to her friend (and boxer/librarian) Annie McBride. By mid January, they had a premises and had recruited "co-captain" Sarah Edwards to help build out the space.
Like all the best sporting facilities, the club will neighbor a successful restaurant, in this case the pie-touting loveliness of Pizza Delicious. The situation is one of wonderful symbiosis, notes Belblidia – one can feed business to the other. The warehouse belongs to the Buras family, who have been nothing but supportive according to Belblidia.
When I visited, work was just beginning but you could already see it taking shape. The warehouse will soon house a gymnasium, but something of a purposely Spartan one. The boxing ring will be the focus, and will be complemented by the basics: jumps ropes, training bags and perhaps a couple of treadmills. The focus will remain squarely on analogue fitness.
The boxing part of the club will only take up a part of the warehouse. The rest will hopefully be built out to accommodate an event space and places to run various community-centered activities: these could be anything from kids' art classes to yoga.
The primary objective is for the gym to be affordable. Belblidia also plans to run a case-by-case barter system for people willing to teach these classes: membership of the club can be earned by providing knowledge, skills and improvement opportunities to those that want them. Costs will also be offset by the use of the space for private events.
"We want the gym to be community-conscious and we're working on what that definition should be," she says. "We want to appeal to women, to LBGT and queer folk but we also want to be there for kids and teenagers and be informed by what local people want. We don't just want to be another venue for young, white transplants."
It's a commendable attitude as Belblidia heads into the next round in her 'terrifying' project. She doesn't belie any nerves and in fact has the calm demeanor of a veteran fighter who's fairly confident of a knockout in this particular bout.
Image courtesy of the Bywater Boxing Club