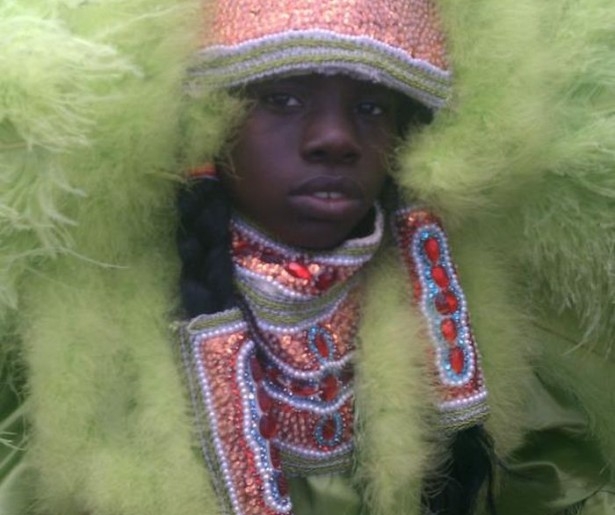 SHARE
Editor's Note: Due to rain, the Mardi Gras Indian Council has moved Super Sunday to Mar 23. The festival begins at A.L. Davis park at the corner of Washington and LaSalle streets at 11am; the parade begins at the same location at 1pm.
——————————————————-
Besides St Patrick's Day, and the Sacred Music Festival the event no one should miss in New Orleans this weekend is Super Sunday.
This annual gathering of the Mardi Gras Indian tribes is perhaps the most open means of accessing this unique element of New Orleans backstreet culture. While Mardi Gras Indian have their set routes and parade areas, no one event packs the tribes into one public space like Super Sunday. In this case, said public space is A.L. Davis park, at the corner of Washington and LaSalle streets. The Indian procession is scheduled to leave the park at 1pm. Be respectful if you go; take pictures at a distance, and don't get in the way of marching Indians or their friends, family and attached bands.
The entire affair will essentially resemble a day long festival featuring food, drink and a lot of music, including the Hot 8 Brass Band, Stooges Brass Band, Big Al Carson, B.R.W. Singing Group, DJ Captain Charles, Jo "Cool" Davis, DJ Jubilee, Young Men Olympian, the Lady Buckjumpers and plenty more.
Some background: The Mardi Gras Indians are the most vibrant, visible and conversely mysterious expressions of black New Orleans culture. To distill them into an extremely simplistic sentence: Mardi Gras Indians are black New Orleanians who dress up (or in local lingo, 'mask') as stylized Native Americans. They take to the streets in fantastic costumes made of beads, feathers and sequins that cost thousands of dollars, weigh hundreds of pound and require hundreds of days of painstaking labor; no element of costume creation is automated.
On Mardi Gras day, Super Sunday, St Joseph's Day and a select few other special occasions, the 'chiefs' and their tribes parade through the city, chanting, shouting and challenging each other to determine who is "the prettiest."
The bigger definition of the Mardi Gras Indians requires a bit more work. First: why are African Americans trying to emulate Native Americans? The anecdotal history goes like this: runaway slaves often found shelter among Native American tribes, and male slaves often found love among Native American wives. Most Big Chiefs well tell you that masking as Mardi Gras Indians is a tribute to this heritage.
While the above is true, it is also a fact that black soldiers were used as soldiers in the local Indian Wars, and conversely, Native Americans were employed as trackers who hunted down escaped slaves. Written records suggest local blacks began masking as Native Americans in the 1880s (Chief Becate Batiste, founded the Creole Wild West, the first Mardi Gras Indian tribe, in 1880).
In 1885, Plains Indians marched in traditional dress in Mardi Gras, only one year after Buffalo Bill's Wild West show wintered in New Orleans; some historians assume the first Mardi Gras Indians emulated the Plains tribes people. Even today, Mardi Gras Indian costumes reference Plains Indians over Louisiana's Houma, Chitimacha, Choctaw and Natchez peoples. Whatever the truth, it is lost to history. Most locals defer to the Backstreet Cultural Museum version of events wherein the costumes are a tribute to an old empathy between African Americans and Native Americans.
Back in the day, Mardi Gras Indian tribes were closer akin to Mardi Gras Indian gangs. Costuming consisted of some feathers and war paint. Confrontations between tribes were often violent; Mardi Gras was seen as a day to settle scores. This trend changed in the late 20th-century, a shift largely attributed to Allison 'Tootie' Montana, Big Chief of the Yellow Pocahontas tribe (his Great Uncle was the afore-mentioned Becate Batiste). Tootie is credited with crafting the first elaborate father and bead extravaganza suits; he used these outfits and their 'prettiness' to proclaim his superiority over rival chiefs, turning a contest of violence into a content of fashion.
There are over 50 Mardi Gras Indian tribes that self-identify as Uptown or Downtown Indians, and each has a strict hierarchy. The basic organizational flow goes:
Spy Boy Runs ahead of the tribe looking for a clear marching route.
Flag Boy Carries the tribe's 'flag', usually an ornately designed banner or standard.
Wildman Acts like a possessed, well, Wildman. Costume often has horns and other frightening elements.
Big Chief The Big Chief is the centerpiece and coordinator of any one Mardi Gras Indian tribe.
Usually the entire procession is followed by a band, which plays to compliment the tambourine-and-percussion laced call and response chants led by the Big Chief. The entire affair of beads, feathers, chanting ("Ooo-nan-ney, Get Out the Way") is more West African than Native American, which isn't that surprising given the strong links between the New Orleans backstreet and the African continent.
The Super Sunday convocation is an eerily powerful experience, and by far the one event you can experience in New Orleans that reminds you this city is geographically in the USA, and culturally a thousand miles removed from it.