POSTED Mon. Mar 17, 2014
St Patrick's Day, in pictures.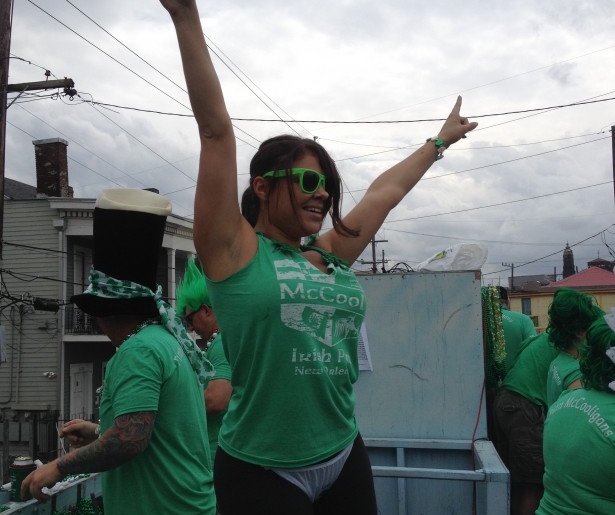 SHARE
All around stand up guy Bob O'Hara rode with The Finn McCooligans this St Patrick's Day weekend and took some excellent pictures from his float. Hope you had a fun past few days that did not involve getting beaned by a cabbage.
1 Green means 'go.'
And 'go' means drinks lots of Guinness and whiskey. And wear a green wig.
2 Blowing the shofar
Actually, that's a Jewish tradition. This is more like blowing the plastic vuvuzela of booziness and cabbage.
3 Throw me somethin -- OW!
Parade goers bring the same excitement for throws on Paddy's Day as they do to Mardi Gras. But on Paddy's Day, they have to contend with dodging cabbages.
4 Magazine St madness
One of the nice things about the Uptown St Patrick's Day parade is the Magazine St location, which allows for easy access to Parasol's, Tracey's and Stein's. Is the latter Irish? No, but they have the best corned beef in the city (a meat that incidentally has no Irish origins).
5 See you next year.
we leave you with the lyrics to "The Parting Glass."
'Of all the money that e'er I had
I've spent it in good company
And all the harm that e'er I've done
Alas it was to none but me
And all I've done for want of wit
To memory now I can't recall
So fill to me the parting glass
Good night and joy be with you all.'