POSTED Thu. Mar 20, 2014
Some shots from St Joseph's Night.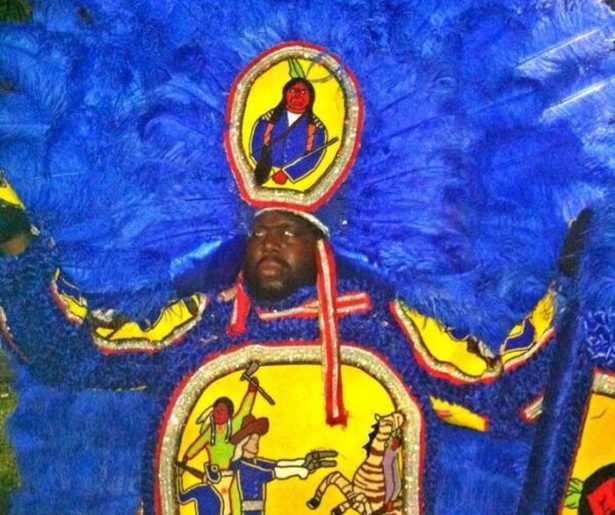 SHARE
Erin Michelle, who tweets at @SkinnyInTheCity, and Kristine Olaris, who tweets at @KristineOlaris, got some fabulous snaps of St Joseph's Nights. Here's some of the best.
1 A history of resistance
The Mardi Gras Indians say their costumes are inspired by the legacy of Native Americans helping escaped slaves hide in the bayous. While this narrative is contested, it has become accepted wisdom among the tribes and, in any case, symbolizes a general sentiment of resistance to slavery and colonialism.
2 It's all in the details
Modern costumes speak to this legacy; the Indian depicted here are more vocative of Plains Indians as opposed to local Houma or Chitimacha. Anyways, it's best to avoid getting caught up in historical fact checking. These costumes, as noted above, are more symbolic of resistance and tribute than representative of specific Native American culture. And the handsewn bead work, as you can see, is stunning.
3 Family traditions
Masking as an Indian is a legacy passed down among family members, as demonstrated by the cutest Mardi Gras Indian ever.
4 Well...
OK, maybe this youngest member of the Fi Ya Ya is the cutest Mardi Gras Indian ever. I'm calling it a tie.
5 Wild Man coming
The Wild Man clears the way for the rest of the tribe with war cries and powerful chants. Their costumes often utilize animal imagery, like these horns.
6 Ties that bind
For young African American New Orleanians, masking as an Indian is about more than pretty feathers and beads. It's a link to the strength of the past and the community bonds that underlay the present.
7 Who's the prettiest?
I can never answer that question. All of these suits drop my jaw.