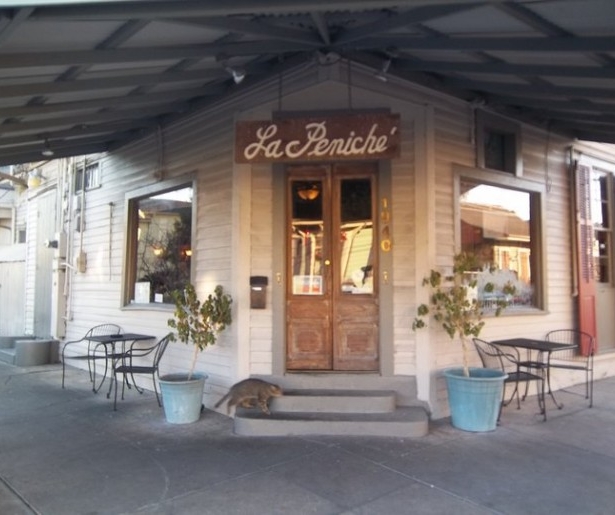 SHARE
So, Kappa Horn (who is a person and not an obscure Greek letter university-affiliated organization), the owner of Slim Goodie's, has bought 24-hour Marigny standby La Peniche. Do you know La Peniche? I'm betting you do but you don't remember it, because usually, you go to La Peniche after a night on Frenchman and double digit shots at the Spotted Cat and The John. I don't think I've ever gone to La Peniche with a BAC below 1.0% or before two in the morning. And do you know what La Peniche makes that is delicious at two in the morning? EVERYTHING. They could grill an alley rat and call it souris cuit dans la merde and I'd be like "This foie gras is delicious!"
I mean, let's be straight: I don't know any who went to Peniche for the food. I'll contradict the above and admit I have gone to Peniche sober. It was usually good at best, and good is OK. That's because Peniche was open 24/7. That means open on Sundays and Mondays. It may have earned negative Michelin stars, but while the rest of the food service industry was sleeping off a well-earned hangover, Peniche provided.
And not just food! There were stories. Oh, such stories, the sort of stories that unfold when the late night driftwood of humanity washes up on the shores of pathos and orders an omelet. The sort of stories I admittedly have a hard time remembering because whenever those stories were occurring I was trying to not pass out on the carpet.
Sigh. That carpet. It smelled like cigarette butts, broken dreams and fun. Orwell would have written an entire chapter of Down and Out in Paris and London about that carpet. You could unravel that carpet and wring out the gig sweat and dried beer of a thousand amazing shows at Snug Harbor and d.b.a. Peniche will close on March 25, and Horn has been quoted in the T-P as saying, "We'll pull up that old grandma carpet."
Later it is revealed Greg Fonseca, former executive chef at Booty's Street Food, will be helming Horn's new place – to be titled, appropriately enough, Horn's. In the T-P, Horn says:
"The menu will be New Orleans comfort food with a little something beyond. A little something that you don't get everywhere. Elevated, if you will."
Dammit Greg, not to be a jerk, but New Orleans food is getting so elevated as of late it's in danger of never hitting the ground floor, and that's the kind of people who went to Peniche: the ones who security never lets past the ground floor. Where will they go now? Because while I wish Horn (and Horn's) well – I sincerely do, from the bottom of my heart – when I'm at Touro and Dauphine, I don't want Khaosan Road inspired crawfish pad thai at 8pm. I want 4am chicken fried steak smothered in creamy gravy, the sort of gravy that's sat under a heat lamp since 2005 and has developed semi-sentient streptococci. If I can get that at four in the morning, bless the carpet; I'll have my unborn daughter delivered on it.
What I'm saying is: au revoir, La Peniche. You were the city's Edward Hopper painting brought to greasy life. So long, and thanks for all the fried fish.
Image courtesy of La Peniche.