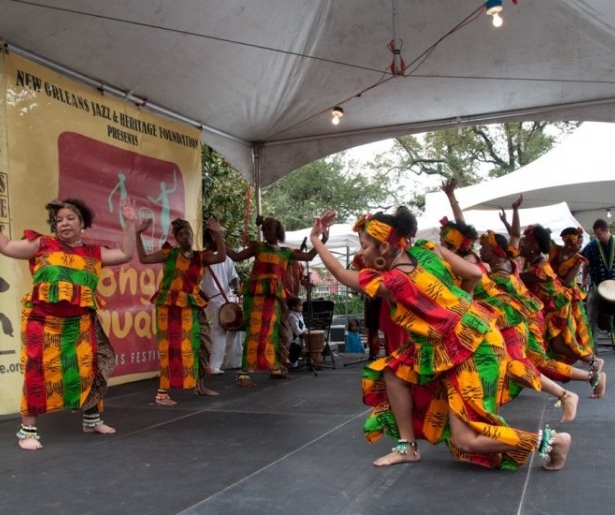 SHARE
It's not an exaggeration to say New Orleans is the womb of American popular music, and that furthermore, the rhythmic soul of New Orleans was conceived in Congo Sqaure, located in modern Louis Armstrong Park. The backbeat of Africa survived displacement when slaves gathered here to chant, drum, dance and sing, a musical heritage that eventually blended with American marching band tracks and European classical arrangements in the brothels of Storyville, giving way to jazz, the grandfather of all pop.
All of the above is something worth celebrating, right? The New Orleans Jazz & Heritage Foundation seems to think so, and as such, they're hosting the Congo Square New World Rhythms Festival from March 22-23, in (appropriately enough) Armstrong Park.
Free performances will be on deck from 11am-7pm, with an emphasis on performers who speak to the Afro-Caribbean roots of New Orleans. A full list of acts can be found in the above link, but be prepared for Haitian pop, African dance, Latin drum circles, bhangra beats by way of New York, Mardi Gras Indians, Mannie Fresh and of course, a lot of brass. Besides Super Sunday, there won't be a better free event over the weekend.
Incidentally, the fact that this and BUKU are all happening this weekend – ostensibly an off couple of days in the middle of shoulder season – really speaks to why this is just the greatest freaking city ever.
(Editor's note: Previously I mentioned Super Sunday was happening this weekend as well, but that event has been postponed again. It is now scheduled to go off on Mar 30. Keep visiting New Orleans & Me for updates).
Image courtesy of the Congo Square New World Rhythms Festival.