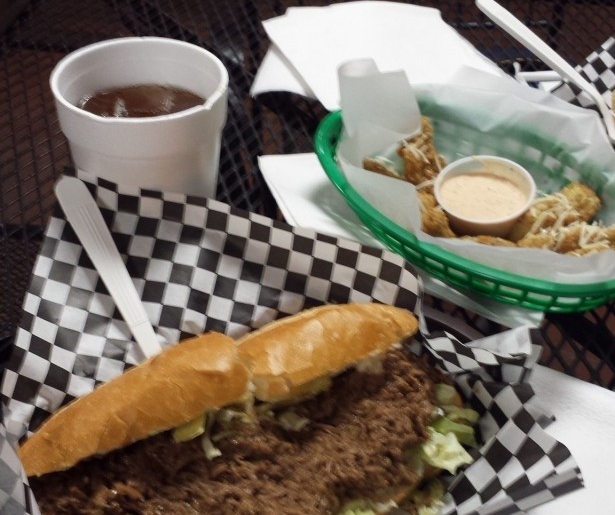 SHARE
First: getting there.
Public transportation is out. You need wheels. You need a car, because Chateau Orleans Poboys is not some cute sandwich shop in a lovely converted New Orleans historical home, a la Mahony's, or even a shabbily attractive tavern or corner shop, like Domilise's or Parkway.
Nope; Chateau Orleans is a reminder that as different as the greater New Orleans metro area can be from America, we are still in America, because sometimes, you have to drive to a strip mall. That's where this Chateau resides, and yes, said location – next to a tae kwon do academy and a gym in deepest Marrero – makes the 'Chateau' title all the more ironic.
That said, when you're done ordering from the bored teenager at the front counter, you see this place is sincerely trying to live up to the Chateau namesake.
I'd love to have been a fly on the table for the conversation that preceded this mural.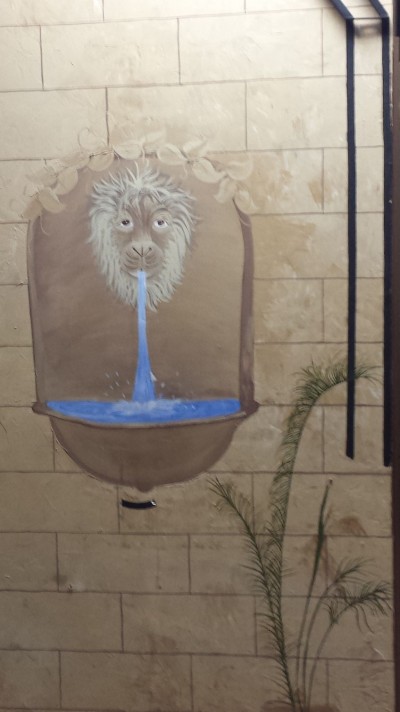 'Hey Tim, you know what's classy as hell? LION FOUNTAIN.'
'Can we afford one?'
'Nope, but I got a bucket of acrylic and some empty drywall. You do the math.'
Whatever; I don't drive to strip malls in Marrero for Loire Valley palaces. I drive to strip malls in Marrero for veterinary services, the a fore mentioned martial arts classes, rainbows, and roast beef on bread.
Because Chateau does a mean roast beef (pictured above). The bread is locally baked on the West Bank and good quality. Firm enough to support debris, gravy and soupier contents for the 20 minutes or so of required po'boy consumption, yet soft enough not to break into powder and mouth daggers upon mastication. The beef? It's beef-y. That's not a cop out description; it's the truth. Too many roast beef po'boys taste of debris seasoning. Here, the moo-mami essence of cow is at the front of the flavor profile. If you've ever had a good burger or steak, you know the quality resides in the cook nailing the process of letting beef taste, somehow, more like beef.
This is the roast beef debris version of that technique. It's not necessarily the best in the greater metro area, but it's a contender, to be sure. It was good enough to make my hand shaky when I took a picture (or maybe I was just hungry and couldn't tell how shaky the pic was on my phone). And it's in Marrero, in a strip mall, in a place where you're unlikely to be unless you live further down the Barataria or were just on a shopping trip out to Floor & Décor. So get the roast beef, which is great. If you're a vegetarian, go for the artichoke appetizer, which is also fantastic and a nice example of the potential depths fry oil can add to a vegetable. One of my mottos – well, not really, but it should be – is that if you're not going to have it on bread, get it in a fry basket.
Chateau Orleans
2324 Barataria Blvd, Marrero
504-347-1177
11am-8pm Mon-Sat, except Wed (11am-2pm), closed Sunday