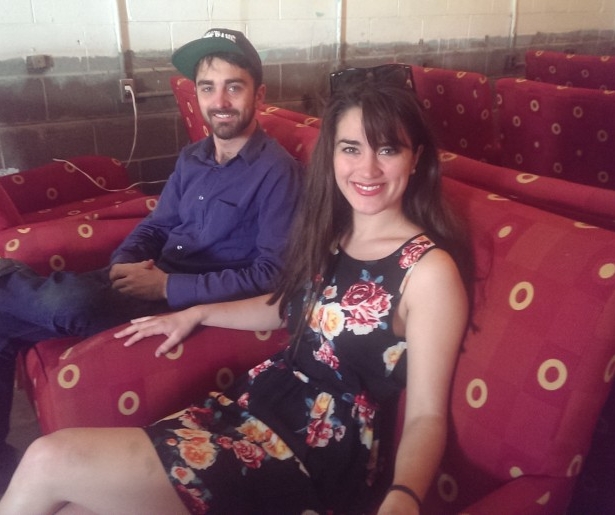 SHARE
ACT ONE. INTERIOR. A CINEMA LOBBY.
I hadn't been to a big city cinema for a few years, but on a recent trip out of town, I had time to kill and rolled up to a multiplex to watch the latest Hobbit film. It was the afternoon, and the ticket was around $15, which isn't cheap but didn't phase me. What did was the price of a soda, which was $7 for a small. I was too dazed to even recoil. I just handed over the money in a fugue state of exploitation.
Up to a point, I'm happy to pay a premium to watch a film on a big screen. The upcharging that seems to be acceptable on the peripheries, though, really sticks in my craw. The luxuries of Canal Place are all well and good – sometimes I want to have a bottle of good wine while I watch a blockbuster – but it's the lack of alternatives (downriver especially) that can make me resent the outlay.
Sometimes I want to strip it down, and just watch a film without any fuss for less than ten bucks.
ACT TWO. INTERIOR. A CINEMA LOBBY.
Enter my potential heroes, siblings Hayley and Will Sampson. We're sitting in Indywood, a converted Wash-Dry-Fold on Elysian Avenue near Washington Square. This brother-sister team are on a mission to not only bring an affordable movie watching experience to the Marigny, but to transform the way local filmmaking is funded, operates and is distributed.
You know, just your everyday reinventing an industry.
Will laughs. "You've heard of Hollywood South," he says. "That means locals can get jobs as grunts on productions in and around New Orleans. What I want to create is a self-sustaining film industry, a cultural space to foster home-grown talent, to have films made entirely in Louisiana and keeping those tax credits instead of them going to Los Angeles."
Sounds obvious when you put it like that. Film school graduate Will is primarily the artistic drive behind the venture, while Hayley gained valuable commerce knowledge and experience while she was a student at Tulane, and is eloquent about the business side.
"We had the idea a while ago," she says. "We spent time pitching it – successfully – to investors but we are still waiting for the federal government to change some aspects of the Jobs Act. We're technically legal but some regulations have to be put on the books."
In the meantime, they adapted rather than stood about. They rented a building, built their own screen and fitted it out with seating and a popcorn stand. Indywood for now operates as a scale model of their grand plan. They are screening locally-made films with permission of the directors and producers, and showing them Thursdays through Sundays, splitting the door proceeds with the film makers.
"We're just screening films for now," says Will. "But down the line we will help create, host and distribute."
As does much art these days, their business model relies on crowd funding, the difference with Indywood being that people give money as investments, with a view to being given a return on that investment. Indywood can streamline costs considerable by hosting online streaming, licensing and distributing through a central body.
"We're still technically a pop-up," says Hayley. "We're obviously hoping to sign a more permanent lease here. We've had great support so far – people have been saying how much we need an arthouse cinema down here, how downtown needs more of this. We just need our audiences of five or so to turn into audiences of twenty or so."
Film makers get control, local talent gets opportunity. And me? I get to flop back and watch a movie without having servers weave in front of me with artisanal cheese plates.
ACT THREE. INTERIOR. A CINEMA LOBBY.
I roll up to watch a film and buy a soda to drink while I do so. I hand over a ten dollar bill, and receive change. Our heroes are victorious. The crowd cheers. Fade to black.
Indywood is at 630 Elysian Fields and has showings of local films Thursdays through Sundays. Tickets are just $5. See the program at their website and find out more about the business model: www.indywood.org.
Images of Will and Hayley courtesy of Paul Oswell.