POSTED Mon. Mar 31, 2014
We snapped Super Sunday.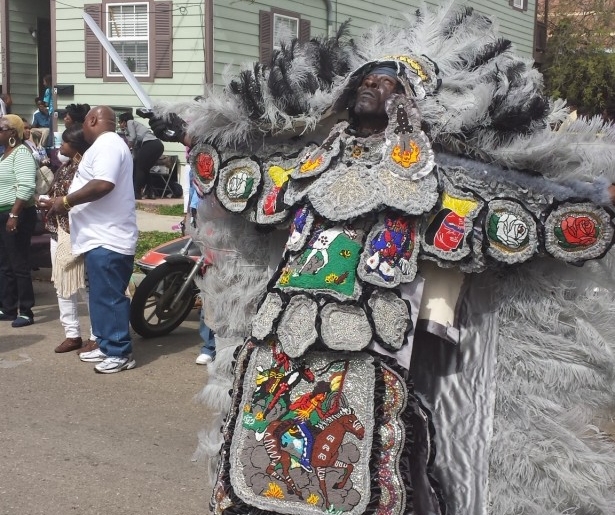 SHARE
If I've said it once, I'll say it again and again: Super Sunday is a magical experience, and you shouldn't miss it. This year's celebration as delayed by two weeks, but fingers crossed, it may have ushered in the beginning of proper springtime. Anyways, here are some pictures from the big day.
1 Wild Man.
Plenty of Wild Man costumes stand out from the pack – it makes sense, sits the Wild Man image as, well, crazy herald of the tribe. But this one in particular caught my eye.
2 Really Wild Man.
This Wild Man, on the other hand, may not have the most traditional Indian costume – not many beads or feathers. But his attitude is consistently fierce and intimidating, and I love that he brings his own berserker style (the shreds, rags and creepy Noh-style mask) to the mix.
3 The New Orleans suit.
This suit, decorated with the entrance to Armstrong Park and the facade of St Louis Cathedral, wins a lot of points for creativity.
4 Keeping the parade moving.
This tribe was chanting and moving like a well-oiled machine, and their suits were gorgeous; respect.
5 West Africa's influence.
The West African influence on Indian costumes and chants can range from subtle to overpowering. These suits fall into the latter category.
6 Let's go get 'em.
You need a powerful amount of endurance and a voice to match it if you're going to masque with the Indians.
7 Color coordination.
Love the dual use of purple and yellow on this suit.
8 Generations.
Masqueing is a family affair.
9 Wild Magnolias got that fire.
It was a sweat day in those suits, but Bo Dollis, Jr. still led the Wild Magnolias in style.
10 This one is just cute.
Cool off and have a rest, little man. There will be many more Super Sundays in your future.