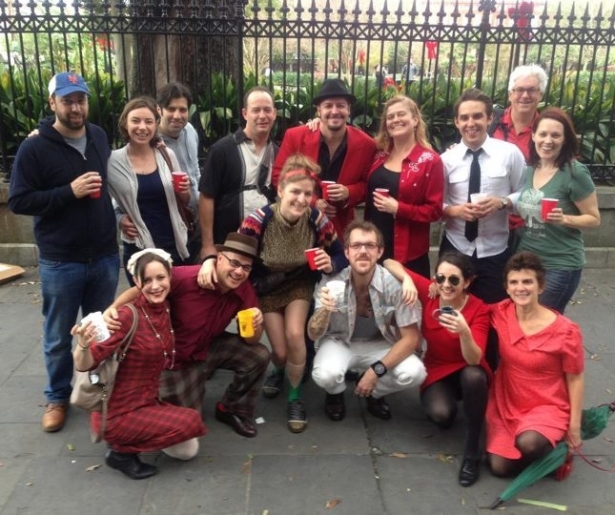 SHARE
It's March, and I'm pouting, because wintertime in New Orleans is almost over.
I shouldn't be pouting at all, because I don't fancy the cold, but I am. The reason I'm pouting is because hot cocktails, a wintertime tradition, are so much fun to make and they'll all be gone soon. Each November I prep an onslaught of different hot cocktails for the cold winter months, and it's fun. There's the Tom and Jerry, several different hot butters (traditional, pumpkin, apple), the Bombo, and of course, the traditional Hot Toddie.
Another of my favorite wintertime tipples is Mulled Wine. Funnily enough, we normally don't do Mulled Wine at French 75. Mulled Wine is usually prepared in large quantities, generally at one's house for parties. It lends itself to a social "help yourself" sort of affair. Lately, I've associated the drink with Christmas in Jackson Square. For the last three years myself and several other New Orleanian bartenders meet in the square to enjoy both the holiday and delicious Mulled Wine.
I usually start at my house peeling the lemons and oranges and studding the peels with cloves. I add all this and brown sugar to the pot and jump in a cab to the Quarter. I have a portable stove to place the pot on and then add five bottles of wine, a bottle of Cognac and a bottle of Ruby Port.
Two o'clock in the afternoon on Christmas Day in Jackson Square is a beautiful time. It's never too cold; there's just a slight, delightful chill in the air that aids the enjoyment of a steaming cup of wine with friends. I came up with this idea four years ago when I had no real place to go on Christmas, and my restaurant was closed. I figured Jackson Square would be a great meeting place for all my bartender friends to gather consistently on what always turns out to be a lovely day here in New Orleans. Over the last couple of years, even our bar regulars have shown up at the Square to enjoy a cup.