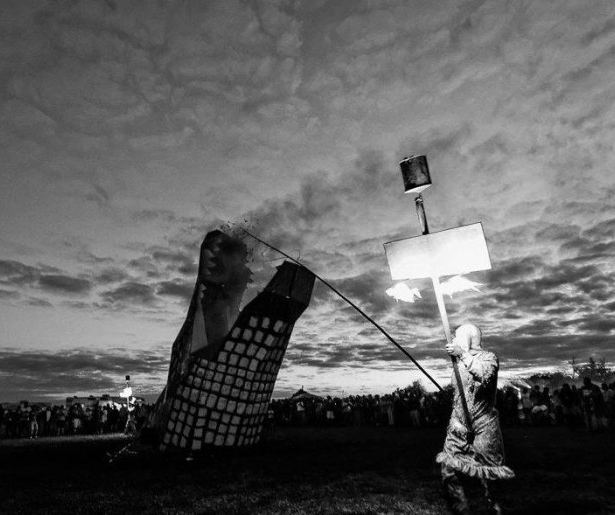 SHARE
For an up and coming music festival to distinguish itself, it must offer more than a compelling lineup of bands and a wide-open concert space. It has to provide a specific community experience that music lovers and artists can't encounter anywhere else.
The T-Bois Blues festival, now in its third official year, has no shortage of unique, event-defining flourishes. Just one example: the tradition of burning a giant, manmade alligator head near the end of the festival's second day. Such spectacle speaks to a Cajun, alligator-country experience, fusing the NOLA Burning Man Community with other visual artists and blues lovers alike. It makes the event not just a blues festival, but a two-day celebration of southern art, aesthetic and the bayou lifestyle. The burning gator head also reminds festival-goers about the history of the event's campgrounds: it used to be an alligator farm. In fact, the festival's founder and principle organizer, Alligator Mike, still owns and lives on the property, in Larose, LA (60 miles southwest of New Orleans) with other relatives, giving the weekend's festivities a familial, inclusive vibe.
Increased popularity in the past two years has caused the festival to expand. This year, organizers added a third stage for late night acoustic sets around a campfire, and also broadened the festival's online presence. VIP passes have already sold out, though two-day and one-day general admission passes are still available. GA tickets include camping, all-day access to NOLA Brewery Beer, homemade Cajun food, and a full slate of blues artists that play from mid-day until 1am or later on Friday, April 4th, and Saturday, April 5th.
The event has grown considerably since its inception as a family crawfish boil years ago, but the goals haven't changed; expose people to great blues music, Cajun cuisine, locally brewed beer and beautiful Louisiana landscape. There's also additional art installations, also known as Burning Bayou, and a camping community that champions a living-with-the-land lifestyle. As the festival's website states, this is a CAMPING festival, so come prepared and with the necessary gear and provisions.
Here are some artists to check out:
Colin Lake
Slide-guitar expert and blues singer Colin Lake moved to New Orleans from the Pacific Northwest in '09, and Alligator Mike included him in the inaugural T-Bois festival a few years after that. He supports his soulful voice with instrumentals that combine rock, folk, and blues. Expect a spirited, high-energy, gospel-infused performance. Plays Friday night at 8:45pm.
Keller Williams
An oft described "one man jam band," Keller Williams hails from Fredericksburg, Virginia, and has an eclectic discography that includes, rock, blues, bluegrass, jazz, and folk. A self-taught musician with a propensity for live looping, Williams will no doubt be one of the more unique acts of T-Bois. Plays Friday night at 10:30pm.
Trampled Under Foot
Fronted by siblings Kris and Nick Schnebelen from Kansas City, Trampled Under Foot blends rock, blues, and soul. Kris Schnebelen's vocals range and stage presence will be a highlight of the weekend. Plays Saturday night at 8:35pm.
Anders Osborne Band
Referred to by Guitar Player as "the poet laureate of Louisiana's fertile roots music scene," Osborne played in the first two T-Bois festivals and returns this year after releasing a new album last fall. He's an expert blues guitarist and a soulful songwriter, sure to entertain and inspire old fans and new followers alike. Plays Saturday night at 10:40pm.
For blues enthusiasts seeking a diverse, intimate outdoor festival experience, you can't get much better than T-Bois. Food, drinks, camping, visual art, all at an affordable price. And Larose is only a little over and hour southwest from New Orleans. Here's a full schedule of musical acts. For more information, check out the festival website.
Image courtesy of T-Bois Blues Fest.