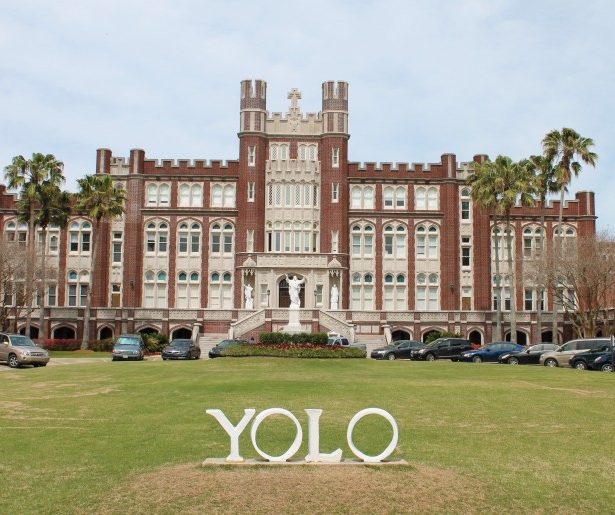 SHARE
I'm sure there were plenty of New Orleans-centric pranks yesterday (I dunno – maybe someone replaced the shrimp in your po'boy with tofu. Or put lemon juice on a saxophone player's reed. Or that kickback for granite from the city government was delivered as monopoly money). But I think this one is the best.
From Loyola's press release:
_ The Loyola University New Orleans senior class has donated a permanent YOLO sign to replace the large concrete LOYOLA letters displayed on the university's lawn fronting historic St. Charles Avenue in New Orleans. The new sign was officially unveiled today._
The student-led senior class gift committee got the idea after unknown persons stole the L-O-Y-O letters from the sign during Mardi Gras last month, which led many to believe the thieves wanted to reorganize the letters to spell YOLO. The popular acronym stands for "You Only Live Once," but the senior class gift aims to embrace the idea of "You Only Loyola Once."
For us, 'You Only Loyola Once' refers to the once-in-a-lifetime opportunities students receive as a part of their Jesuit education here," said M.L. 'Cissy' Petty, Ph.D., vice president for student affairs and associate provost. "The YOLO sign gives new life to Loyola's front lawn and will surely become a popular photo spot in Uptown New Orleans both for students and tourists alike.
Nice. Pays homage to an actual prank and still manages to reek of university-centric puff PR language. We tip our YOLO-emblazoned caps to you, Loyola, although I would note that anyone who actually says the word 'YOLO' in everyday conversation will probably find themselves repeating their years at Loyola and other institutions of higher education ad nauseam.