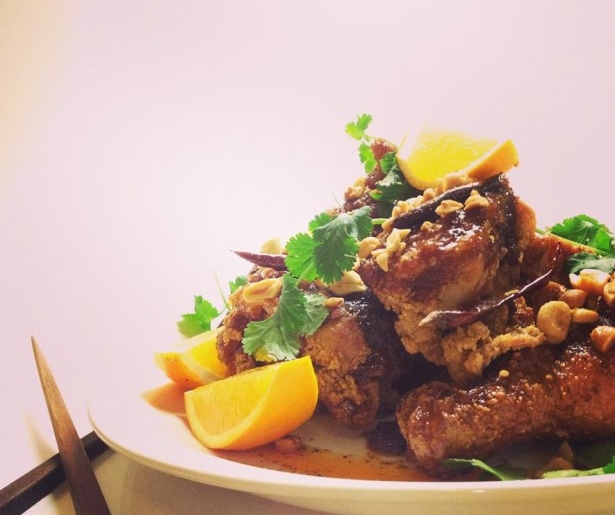 SHARE
Friday night in New Orleans was kind of rainy, cold and miserable. And in the best tradition of rainy, cold miserable nights, my wife and I decided to have a night in. Not every evening can be about discovering the secrets of this city, after all.
Except staying in that evening became exactly about discovering the secrets of New Orleans. And in this case, said secret was a dope spot for Chinese takeout.
New Orleans, it must be said, is not terribly well known for its Chinese food scene. The West Bank is, at first glance, rife with Chinese restaurants, but upon closer inspection, many of these establishments are, in fact, Vietnamese joints that advertise Chinese cuisine as a way of luring in those who may not be adventurous enough to order a bowl of pho. I love Vietnamese food, but there are nights when you want a grease fix that Vietnam's famously fresh and fragrant cuisine can't provide.
Besides Panda King in Gretna, there are also no big dim sum brunches around, which tend to be a solid indicator of Chinese food presence. But the biggest void in the Chinese food galaxy of New Orleans? I don't have a good takeout option. Now, this scenario does not apply if you live within the delivery zone of Five Happiness or China Star, but I don't (well, I am within China Star's orbit, but because I'm over three miles away I'd have to pay extra for delivery, and that sours my sweet and sour chicken crave).
Then, my wife and I realized we had a solution courtesy of a flyer that had been slipped under our door: Red's Chinese.
I was initially a little wary. Red's makes limited use of Pop-Communism aesthetic, which plays around with Socialist Realist propaganda posters as website decor. I'm not a virulent Red Scare monger who wants to reinstate McCarthyism or anything, but appropriating a communication tool that was meant to paper over atrocities like, say, the death of 15-45 million people during the Great Chinese Famine has always rubbed me the wrong way.
Then again, Red's is hardly the first or most egregious perpetrator of the revolutionary-poster-as-window-dressing-aesthetic, and their site as a whole is a mishmash of random icons, from pugs in silk conical hats to a Louisiana pelican, so it's not like revolutionary chic is their entire bag; if anything, the site pokes fun of those old banners (note the happy worker holding up a Red's ready smartphone on the contact page). Also, I was clearly bored, had read too much critical theory, and was dealing with, as stated before, a cold and rainy night, so I figured whatever and picked up the phone.
I was also nervous about the food, which departs from traditional Chinese to take a more New Orleans angled approach to the cuisine. But again: rainy, cold, lazy. The wife and I ordered the General's chicken, Craw Rangoon and Bywater eggplant. We were told to wait 45 minutes.
Forty minutes later (we appreciated the punctuality), our food arrived, and it became immediately obvious that any concerns I had over how Red's does Chinese were unfounded and idiotic, because this ish as out of sight. The eggplant was silky and garlic-y all at once, cooked to a state of soft melt-in-the-mouthiness (this is a word) that achieved a great balance between texture and flavor.
The Craw Rangoon was, essentially, a cream cheese and crawfish empanada, and I mean this in the best possible way. It was savory enough to stand well on its own, but starchy enough to serve as an excellent side dish.
And General's chicken? My new favorite, non-fried chicken in the city. First of all, it's beautiful (and pictured above). A wonderful, ruby-red to lacquered wood color. Studded with peanuts and roasted red chilies. And unequivocally delicious – salty, spicy and rich, with an unexpected citrus kick that had me groaning like a satisfied bull.
Moral of the story? Red's Chinese is the downriver solution to your late crappy night takeout needs. And come to think of it, I would order out here even if the weather was perfect, because that chicken and my back porch seem like a match made in heaven.
Red's Chinese
6pm-midnight
504-377-1444
Cash only
Above image courtesy of Red's Chinese.