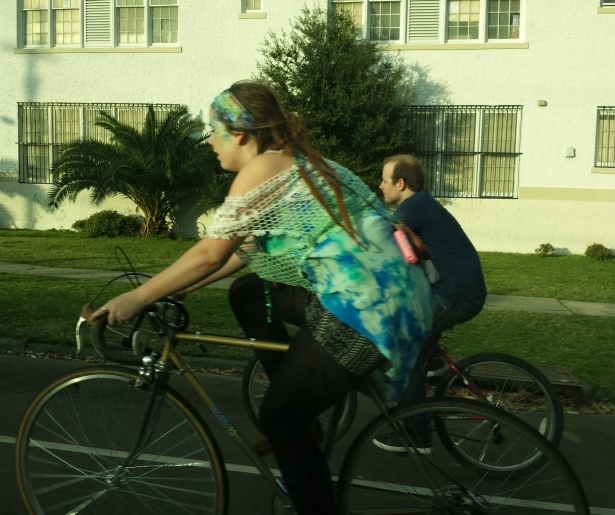 SHARE
One of the worst headaches associated with Jazz Fest, besides the heat-and-daiquiri migraine one tends to develop around 3pm, is parking. Mid-City, the Fairgrounds and Bayou St John are a residential area. Parking enforcement takes a hard line on violators, except for those locals who (understandably, to be fair) stake out their curbs with trash cans.
If you're looking for street parking…well, that's a bad idea. In previous years, the best luck I've had has been parking on Orleans Ave, but that's a fair hike to the Fairgrounds. You may also find luck between Esplanade and St Bernard Ave, although you're more likely to find a private lot than on street parking (and hey. Maybe a private lot is a good idea. Gotta respect the entrepreneurial spirit of New Orleanians who turn their side lots into a garage).
Personally, we think you should bike to the Fairgrounds, especially if you're staying in Mid-City, the Quarter, CBD, Marigny or Bywater, The Esplanade Avenue bike lane provides an incredibly easy to ride (see those folks riding above? They're having fun!), flat route that leads direct to the Fairgrounds. Even from the Bywater, you're only going to be riding a few miles at most – it takes around 30 minutes at the most (and much less from the Quarter and CBD). Just remember to wear a helmet, use reflector lights and headlights.
Anyways, to reiterate, parking enforcement is going to be on a rampage during Jazz Fest. They make a lot of money at this time, so if you do park on the street, do so with care. Courtesy of the Faubourg St John Neighborhood Association, here are some common violations and their associated fines:
Parking within 15 feet of a fire hydrant: $20
Parking in a fire lane: $20
Parking on the median: $75
Parking on the sidewalk: $20
Parking in the travel portion of the roadway: $20
Parking within 20 feet of a crosswalk or intersection: $20
Vehicles may be towed for all of the above violations; the tow fee is $156.
If you do get towed, you can pick up your car from 400 N. Claiborne Ave (8:30am-5pm, Mon-Fri). The number and may you never have to call it – is 504-658-8002.