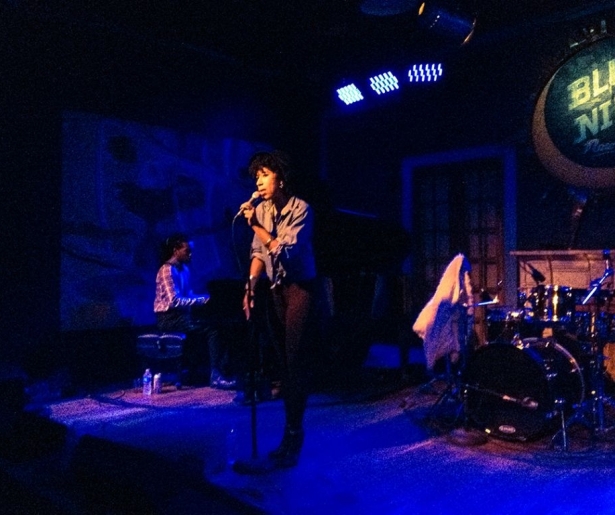 SHARE
"I don't know if y'all knew this, but whiskey makes you hot!" – Mykia Jovan
To hear Mykia Jovan sing on a Sunday night at the Blue Nile is to indulge yourself in the juxtapositions that seem to come naturally in this town. Jovan's voice, at turns cracked and weathered, then clear and rich, flowing from the mouth of a smooth, youthful woman is one contrast; that this impeccably attired ingenue with easy stage presence and friendly demeanor is reportedly intensely anxious and camera-shy is another. That this room is nearly empty seems absurd, given how adept Jovan's voice is at drawing you in.
Peering out under a broad-brimmed brown hat and a thicket of curly locks, Jovan gives her full Billie Holiday best to the jazz standard "On the Sunny Side of the Street," before transitioning into a heartfelt rendition of the Errol Garner classic, "Misty." But lest you think it's all cuts from the pork pie hat era, Jovan also touches on Norah Jones, Bob Marley, and Trisha Yearwood hits during her set.
In New Orleans' defense, it is Sunday. A slow day by even by this city's skewed standards. And Jovan, who regularly playing Kermit Ruffins' always-hopping Friday night gigs at the Nile, has only begun to be a known quantity. Unlike those Friday night shows, though — where Jovan plays something of a relief pitcher in between Ruffins' more lively numbers — tonight sees her, along with pianist Jason Butler, get intimate. Several times, the two stop in between songs to toast each other and share a few sotto voce laughs before returning to the audience. Jovan sheepishly notes that the tip jar is empty; Butler reminds us that he accepts shots in lieu of tips. Both requests are satisfied in short order.
About that Sunday thing, though. I've seen Jovan onstage a half a dozen times with Ruffins' group, performing many of the same numbers, including her spirited interpretation of "If I Only Had a Brain." Played for cheer on Friday, the song tugs at you on Sunday.
"I would not be just a nothin'/my head all full of stuffin'/my heart all full of pain," she sings. The Scarecrow was more tragic than you think.
An hour into the set, the room starts to fill with the curious detritus of a nearly exhausted weekend: Two elderly women, a quartet of clutch-wielding club girls, several mustached hipsters, and one silvermane in a well-appointed fedora and horn-rimmed glasses. I'm glad, since it means more money for Jovan and Butler and more exposure. The pair deserve a bigger audience — and a cover — though for now you can see them for free every Sunday night at the Blue Nile. Go and enjoy the contrasts for yourself. The whiskey's cold, but it makes you hot.
Mykia Jovan & Jason Butler perform at the Blue Nile Sundays from 8 p.m. to 10 p.m.