POSTED Fri. Apr 18, 2014
How to spend your Easter weekend.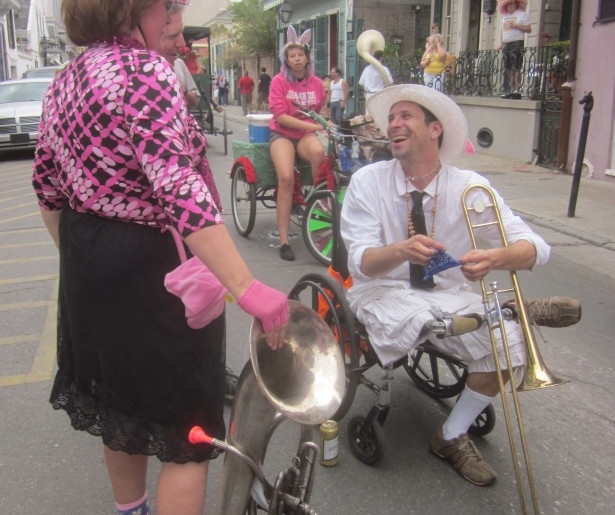 SHARE
Happy Good Friday, and happy Easter weekend, New Orleans (and a happy belated Passover while we're at it). This largely Catholic city has always celebrated Easter in a big way, although one of the parties this weekend may not quite fit the traditional concept of Easter celebrations.
But before we even get into Easter, there's some other fun happening around town.
1 Lightnin' Lee at the Mother In Law
Need some live music on this dreary Friday evening? Guitar Lightnin' Lee (whose website provided the above image) will be playing at the Mother In Law Lounge at 10pm. Blues rock plus an iconic New Orleans bar equals tons of Yeah You Right.
2 Crescent City Classic (and Mile 4 party)
On Saturday, many too-short shorts (and if we're going off the above picture, maybe a few banana suits) will herald the return of the Crescent City Classic. The 10k run starts at 8am in front of the Superdome, and then proceeds through the Quarter and up Esplanade to City Park (see a map here). If, like a certain New Orleans tourism website editor, you'd rather party than run, head to Esplanade and Mystery for the Mile 4 celebration, which will include plenty of jello shots. Because jello shots.
3 Historic French Quarter Easter Parade
On Easter Sunday, no less than three parades will roll through the Quarter. The first, the Historic French Quarter Easter Parade, is by far the most traditional. Horse drawn carriages and convertibles led by City Council President Jackie Clarkson will leave from Antoine's (713 St. Louis St) at 9:45am and proceed to St. Louis Cathedral for an 11am mass. Easter outfits and similar stuff shall be strutted after church. Throws will be Easter egg-y and (OK, we're guessing) in every shade of pastel conceivable.
4 Chris Owens French Quarter Easter Parade
At 1pm, local burlesque performer Chris Owens will kick off the Chris Owens French Quarter Easter Parade from Canal and Bourbon. This one gets a little rowdier than the Historic Easter Parade, but you'll still see folks with their kids (along with some confused tourists), because hey, this is New Orleans.
5 Gay Easter Parade
Finally, at 4:30pm, the 15th annual Gay Easter Parade will roll from Michael's on the Park, (834 N Rampart St). A combination of walking sub-krewes, cars and some seriously fabulous outfits (and a fair bit of glitter) will mark the route; all benefits raised from the Gay Easter Parade go to the NO/AIDS Task Force's Food for Friends program. My plan? Easter service with wife, Easter brunch in the Quarter, catch a bit of all three parades, lots of bloody marys, and then, sleepy Sunday.