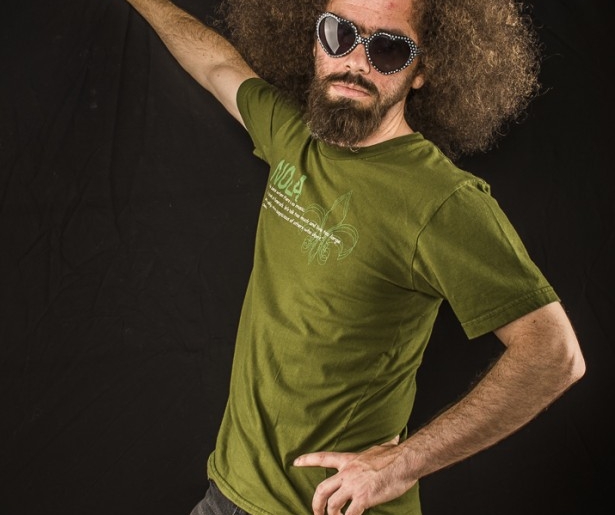 SHARE
I'm in the presence of greatness, or at least someone who can peel crawfish a hell of a lot faster than I can, as I sit with local musician Earl Scioneaux III the week before Jazz Fest. We're in camping chairs we dragged down from his apartment, sticky-salty-fingered outside a bar at twilight, talking about how the best of the fest doesn't happen at the dusty racetrack.
"The night shows at Jazz Fest—for me that's where the magic happens," he says. "There's a lot of cross-pollination…individuals and bands just get off their gig and sit in with another band…[and] random, amazing things tend to happen. Even if nothing comes up, I like the chance that something might happen."
Scioneaux won't be performing during this year's festival—he's tied up in other work. Currently, he is perhaps best-known for Brassft Punk, his arrangement of Daft Punk's music for New Orleans brass bands, a project he plans to take on tour later this year.
He's also a producer, keyboard player, and sound engineer, most notably for the Preservation Hall Jazz Band; and if that doesn't sound like a full dance card, you'll catch him out in the gigging community, sitting in with acts like Luke Winslow-King and King James and the Special Men. He's basically the opposite of your "musician" boyfriend who sat around on the couch playing Guitar Hero and writing you dubious rent checks.
Scioneaux grew up in the city, attending a program for promising young creative types at NOCCA, but didn't stick around afterward. He moved to New York for a while, trying out stock trading and sound design, before coming down to visit one year during Mardi Gras. Like many others, he got "sucked into the vortex that is New Orleans," and never quite made it back to Real America.
To a slightly younger generation of New Orleans musicians, who turn up at Siberia or the Hi-Ho in between Bourbon Street bartending or mind-numbing nine-to-fives, Scioneaux has worked out the kind of life many aspire to. He's a full-time working musician, with favorite venues to play at (Tipitina's or Jimmy's, both uptown) and a more-or-less clear artistic mission (the intersection of New Orleans music and electronic music.)
"I made [my professional life] a goal really early on…the goal was to get to the point where I didn't have a day job," he says. "It's difficult for me to imagine a dry spell; I always try to get involved with as much stuff as I can; sometimes even a little more than I can."
He tells how me the city, particularly the downtown area, makes that lifestyle possible. At a bar named for a famous record studio owner, next to the usual Quarter motley crew (a guy explaining his questionable tattoos, dog owners trading discipline tips as they feed crawfish castoffs to their pups), it doesn't sound cheesy, or like an obligatory nod to the myth of the city as a bohemian paradise. For him, the city's convergence of old and new allow for a creative tension that vibrates like a chord.
"There's been a constant push-pull between new influences coming in and people resisting to some degree; I think both are important, but I think that kind of state of flux, I don't know if there's even a word for it….I think that's maybe the nature of what this city's about," he says.
Image courtesy of Earl Scioneaux III.