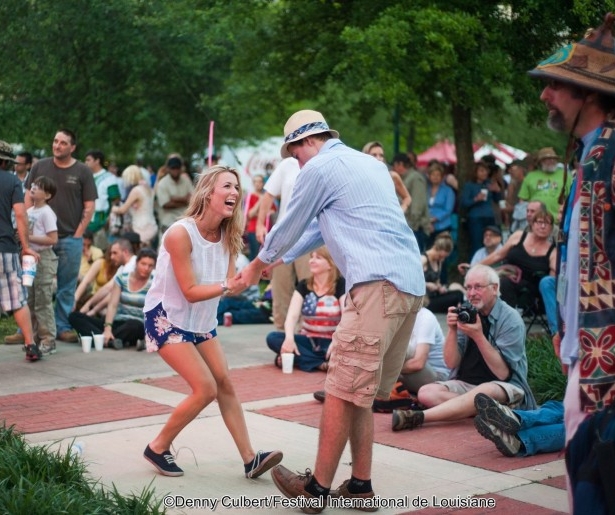 SHARE
In New Orleans, people collect festival experiences like they're Super Mario treasures. Plentiful and satisfying, some are as easy to reap as walking through the neighborhood, and others are hidden to all but those in the know. They're our absurd currency, and one can fill a calendar year collecting them all—Mardi Gras, Mirliton Fest, Vietnamese New Year, T-Bois Blues Festival, Congo Square New World Rhythms Festival, Black Pot Festival, French Quarter Fest, Jazz Fest, and on and on, pausing only during the dead of summer. And yet, Festival International de Louisiane, which is celebrating its 30th anniversary in 2016, remains something of a hidden prize—a beautiful bonanza of cultural coins in the sky.
OK; I might be partial. I'm from Lafayette, and Festival International is the one weekend a year when my hometown is cooler than New Orleans.
Founded in 1986, the five-day, free—free!—festival centers on Francophone music and culture, allowing Acadiana to showcase both its well-known Cajun heritage as well as its full family tree of French-speaking and/or French-derived nations. Estimated attendance totals have topped 375,000 in recent years, putting it on the level of Jazz Fest. More than Jazz Fest, though, which shoehorns the whole "jazz and heritage" bit into a larger bid for mainstream commercial appeal, Festival International explores and plays with Louisiana's French-colonial and postcolonial ancestry.
Festival, as it's called in shorthand, always falls on the last full weekend in April, also known as the first weekend of Jazz Fest, which helps to explain why so many die-hard festival-going New Orleanians have never cared to make the 130-mile drive westward.
Some of the nations and regions represented include French Canada, original home of the Acadians (who would become Cajuns), prior to their exile to Louisiana courtesy of the British; West African nations, such as Guinea and Cote d'Ivoire, that were forced to supply labor in the colonies; and former West Indian colonies, such as Haiti and Martinique. Louisiana's full musical palette is always on display, from neo-Cajun barn burners like the Pine Leaf Boys to zydeco to several New Orleans bands who make the trek west for the weekend.
Among the African and Afro-Caribbean headliners for 2016 are Alpha Blondy, one of the world's leading reggae stars, hailing from Cote d'Ivoire; the Burundi Drummers, a collective of musicians who fled the nation of Burundi following the interethnic war between Hutus and Tutsis in 1993; BelO, one of Haiti's leading singer-songwriters; Congolese rumba and Afro-electric star Pierre Kwenders; the Belizean musical explosion of The Garifuna Collective (YouTube videos of all the acts can be found on individual artist pages on the Festival website).
New Orleans usually provides one or two heavy hitters to the lineup, and while it may seem silly to drive to Lafayette just to see New Orleans music, taken in the context of the whole festival, the musicians we know so well here are heard anew. When you've spent the day sonically traveling around the world, the sounds of home are even sweeter.
Festival International also has a more-recent tradition of featuring up-and-coming indie bands. I saw all-capped Lafayette faves GIVERS play a jubilant, fantastic show a few months before their EP was featured on NPR and they landed a car-commercial soundtrack (they're playing Lafayette's Warehouse 535 from 7-10pm on April 24). In 2013, all the kids were buzzing about Royal Teeth, an earnest, upbeat ensemble who were treated like arena idols at Festival. I have a lovely memory of hearing them faintly from inside my car, parked three blocks away, where I had retreated to take a catnap. That's how easy this festival is: if you get weary, you can go home or just take a break somewhere along the periphery—there's no Brass Pass required to return in an hour or two.
The Canadians always bring an array of goods, and this year is no exception; on the slate are Montreal indie-folk outfit Les Poules a Colin, made up of five friends who grew up down the street from each other; the powerhouse all-girl neo-soul and folk sounds of Chic Gamine; and Celtic/Acadian influenced Vishten.
And then there are the wild cards, bands whose Francophone cred is nugatory to nonexistent, who round out the buffet of global sounds. Often, these high-energy, highly danceable groups are tapped to fill the late evening slots, when French-heritage tradition takes a back seat to international party music. This year will offer acts representing Israel, Australia, Martinique, Colombia and many more nations.
One of my favorite shows in all my 15-plus years of Festival was a band with virtually no French connection: Chicha Libre, a New York–based group leading a US revival of the 1960s Peruvian genre chicha — cumbia's answer to psychedelic rock. Picture it: a perfectly sunny Saturday, a healthy-but-not-horde-like stream of people — all ages, races, and persuasions — filling Jefferson Street, the central artery of downtown Lafayette. A habanera beat pulses in the distance, anchoring a blithely deranged organ riff wafting in the breeze. A short walk reveals a gleeful dance party building to a frenzy as the organ gets weirder and wilder. The band is overjoyed, unaccustomed to crowds as ecstatic as this one, and they give their all. An intense interest in a whole new genre of music is born.
Even my most middling Festival experience has yielded at least one moment of unadulterated musical bliss. Every year offers fresh surprises, treasures lying in wait, just up the I-10. Bring sunscreen, bring a cooler of beer (no glass), bring children — I haven't even mentioned the fantastic Scène des Jeunes, the children's stage — and bring yourself to Festival International.
Editor's Note This article, which originally ran in 2014, has been updated for 2016.
Image courtesy of Festival International de Louisiane.