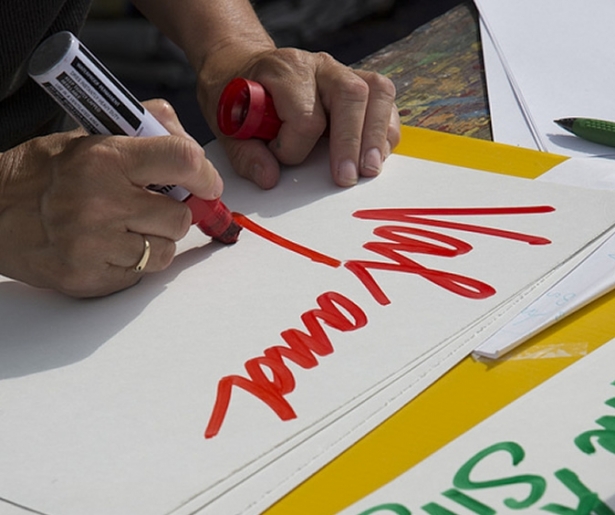 SHARE
Four days before its opening at the Fair Grounds, Jazz Fest still looks like a traveling circus that got to town a week too early. Security is non-existent. Orange-vested men grumble into walkie-talkies, bumping across the throughway on forklifts and golf carts. Mysterious white tents stand empty, waiting to be packed with thousands of sweaty, sunburned fest-goers in straw hats and Hawaiian shirts.
By the time I find Nan Parati in this ghost town, I'm hot, dirty, and seem to have developed a mild heat rash. But Parati, an affable, middle-aged blonde woman with a crinkly smile, seems completely unperturbed.
"There are two kinds of people in the world—festival people and non-festival people," she says. "I'm a festival person."
Parati is the co-coordinator of the Jazz Fest art department. She takes me on a quick tour of the grounds to show me her work: she's helped create the festival's signage, artwork and backdrops of the festival for the past 30 years. Working with a staff of more than 20 people, she pencils out the iconic brush-stroke lettering that advertises crawfish beignets and strawberry lemonade, on signs topped with miniature paintings of the facades of Uptown houses. At the Jazz and Heritage Stage, she points out one of her signature backdrops: a stylized horn player on a dark green field.
"We try to keep [the art] Louisiana-based, because it's the Louisiana Heritage Fair as well, so that it's representive of Louisiana and New Orleans," she says. "I think a lot of festivals go with more sponsor-driven [decorations]; [producer Quint Davis] is more about the art. It's not just for the sponsors, it's for the festival-goer."
Though she moved to Massachusetts after Katrina, Parati stayed involved with the fest. Preparations for the following year's event begin almost immediately after the close of the current year's, but Parati's job kicks into high gear in January, when art direction begins in earnest.
Along with design, her team handles restoration—the chicken-on-a-stick sculpture we pass is the same chicken that hung there last year, with the appropriate maintenance and updates. When new sponsors for the fest come on board, Parati's team works with them and the festival's producers to work out designs that still fit in with the kicky aesthetic. (She tells me they like to "keep the festival festive," which, as a mission statement, seems surprisingly straightforward and effective.)
For this year, Parati partnered with Dirty Coast creative director Blake Haney to feature the casual loops, points and curlicues of Parati's lettering on one of the company's NOLA-centric t-shirts. The festival will also sell a black and gold Jazz Fest shirt with a similar design. Her style is known and beloved by festival-goers nationwide, even by visitors to the restaurant she owns in small-town Massachusetts.
"People love the signs; they call me year-round and ask me to do signs for them," she says. "Sometimes people come in [to my restaurant], look around at the signs and say, 'Does somebody here work at Jazz Fest?'"