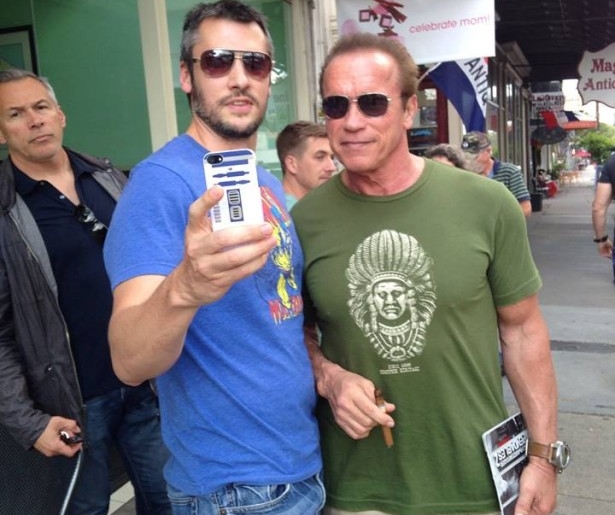 SHARE
Of all of the places I can imagine to meet the Terminator, the man who killed the Predator, the Running Man, Conan the Barbarian – in other words, the Guvenator – one of the poshest chocolate shops in the city was low on the list.
And yet. Walking down Magazine St two days ago, I ran into my friend Maria, sitting outside of Sucre. She motioned me over and pointed to a black GMC Yukon with commercial plates and pointed down the road.
"Arnold Schwarzenegger just came out of that car and walked down the road with two big guys."
I paused. "Seriously?"
She motioned. "Go find him!"
Which a friend and I attempted to do. We figured he couldn't have gone far, but a peek into the nearby Rendezvous Tavern did not yield the sight of a man demanding clothes, boots and motorcycle off of a biker (although I feel like I have seen a similar scenario play out in the Rendezvous, so there you go). Maybe he ducked into Frock Candy? If so, Arnie had cleverly disguised himself in Magazine Street's version of Predator-blinding mud (geometric-print sun dresses).
I walked by the GMC Yukon and noticed two enormous cigars, but had to leave. Fortunately, Maria's husband Matt, a professor at Delgado and mildly-obsessed Schwarzenegger fan, showed up after I left and snapped the following Selfie-nator. His account follows:
Me: "Mr. Schwarzenegger, I'm a huge fan, sir. Welcome to New Orleans!"
Arnold: "Thank you, thank you very much."
(Arnold goes into Sucre with his bodyguards and has some ice cream. About ten minutes later he comes out and gestures towards me….)
Arnold: "You ready for da picture?"
Me: "Seriously? You got time?"
Arnold:" Of course."
Then he probably sacrificed his gelato to Krom. Or something.
Afterwards, someone spotted Jesse Ventura in La Divina Gelateria. Just kidding.