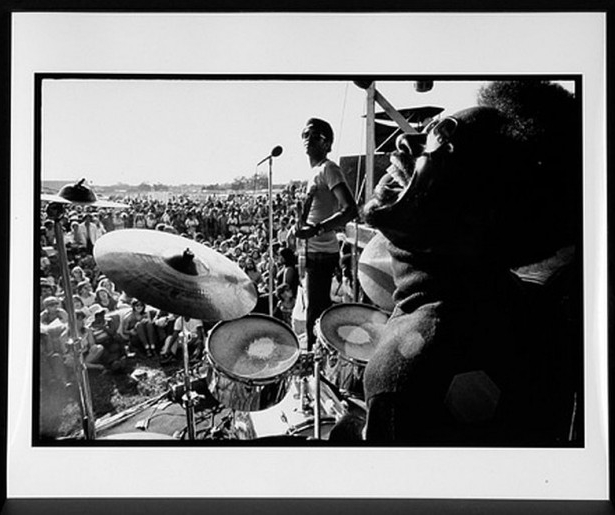 SHARE
Every Jazzfest enthusiast has their favorite festival memory, whether it took place in the Gospel or Blues tent, the Acura or Gentilly Stage, or any other of the festival's storied concert spaces. And everyone of course remembers their all-time favorite performance, whether it was local legends such as The Neville Brothers or Dr. John, or nationally-renown acts like Elvis Costello or Bruce Springsteen.
Hundreds of artists perform on over a dozen stages each year, so compiling a short list of the "best Jazzfest performances" is a tricky endeavor. So much of the festival depends on the spontaneity of stumbling upon a performer you've never heard before. Any performance, big or small, could become your favorite of all time; that's part of the event's ever-expanding appeal.
However, a few performances continue to spark conversation among annual festival patrons to this day, and several signified historical moments for Jazzfest as it grew into the national draw it is in 2014. To help celebrate this year's Jazzfest, here's a look back at some of the memorable performances from festivals past. These are by no means the "greatest Jazzfest performances of all time," but simply five noteworthy sets that exemplify the spirit of the festival, and help showcase its eclecticism and growth over its 40-plus years of history.
'71 – Professor Longhair
Some folks still insist that legendary New Orleans "boogie-woogie" pianist Professor Longhair, or Fess, as he's often called, played the first Jazzfest in 1970. But it wasn't until the festival's second year that he officially played on Stage 3, which became known as the Fess Stage and years later, the Acura Main Stage. In 1971, when the festival took place at Congo Square in what is now Armstrong Park, Stage 3 was a small platform about the size of a modern day food truck.
Fess, whose idiosyncratic style allegedly stemmed from learning to play music on an instrument with missing keys, plucked away at an upright piano, kicking at it in time for added percussion. Onlookers migrated from the nearby gospel tent to gather in the grass in front of his piano, many of them dancing right up against the wooden planks of the stage. The performance revitalized Fess' career, introduced him to a new generation of jazz fans, and helped him make contacts that would allow him to record a few more records before his death in 1980.
Footage of Professor Longhair's '71 set is rare, but The New Orleans Jazz & Heritage Foundation Archive has a few fuzzy video transfers of select songs, and the intimacy of the performance still shines through. Other musicians, fans, children, and even the festival's original producers, Quint Davis and Allison Miner, can be spotted on camera swaying along to Fess' extended jam sessions. Fess' performances ushered in an era of newfound appreciation for traditional New Orleans jazz in the 70's, and embodied the improvisational spirit of Jazzfest, setting the tone for the soon-to-expand festival.
'73 – Stevie Wonder w/The Meters
Like any storied music festival, Jazzfest is famous for some impromptu collaborations. In 1973, just the second year the event took place at The NOLA Fairgrounds and Racetrack, Stevie Wonder was scheduled to perform at night at the Municipal Auditorium. Sometime in the afternoon though, he showed up on Stage 2 to play a few songs with The Meters (pictured above). The NOLA Jazz & Heritage Foundation Archive has rare audio of a sound recordist catching wind of the surprise appearance from excited fans in the nearby jazz tent. The sound man continued to record as he left the tent for Stage 2, heard snippets of excited fans along the way, and arrived at the performance just as Stevie launched into the chorus of "Superstition."
That kind of on-the-fly surprise epitomizes the spirit of collaboration Jazzfest has cultivated over the years, and the fusing of a successful hometown funk group like The Meters with a pop star like Stevie Wonder foreshadowed the genre-crossing that the event would become known for in the coming decades.
'87 – Stevie Ray Vaughn
Electric blues troubadour Stevie Ray Vaughn utilized dry amplifier tones and complex guitar licks as the backbone for his live set throughout the 80s, and on several occasions he brought his act to Jazzfest. More than once he played at the Fairgrounds during the day, and then on the riverboat SS President at night. His first time on the SS President was an intimate gathering in '85, but in '87 he performed for a larger crowd and the performance was captured for a short concert documentary, which can be found here.
By '87, Vaughn and his band Double Trouble had already established themselves as one of the most sought after blues-rock acts of their time, and after watching video of his SS President performance, it's easy to see why. The extended soloing, the eccentric headwear, the squeaky clean guitar tone, the unhinged focus on Vaughn's face as his hands work up and down the frets — it all adds up to as memorable a set as any other in the festival's history. Diehard Jazzfest attendees still talk about "Stevie Ray Vaughn's on the President performance" to this day.
'90 – Champion Jack Dupree
Jazzfest promoters often rediscover and showcase artists of the past, particularly local musicians. Champion Jack Dupree grew up in New Orleans, but left in the 50's for a life of traveling around America and Europe. In 1990, after thirty-six years away from home, Champion Jack returned from Germany for a performance on the Jazz and Heritage Stage (now the Allison Miner Stage). Allen Toussaint conducted an onstage interview in addition to the performance, and Dupree, at that time over eighty years old, did not disappoint.
He called himself "The Godfather of New Orleans Blues," shared memories of playing dingy clubs in the French Quarter, and told tales of his travels across the world as a barrelhouse pianist. On several occasions he answered questions with ad-hoc scat-vocal performances, utilizing his well-known gift for wordplay, eliciting cheers from the crowd and laughter from Toussaint. Audio of the performance/interview is rare, but Champion Jack's return home did lead to his most acclaimed late-career album, Back Home In New Orleans. His eccentric and entertaining appearance is yet another example of Jazzfest's ability to reintroduce long-lost talents to a new generation of listeners.
'06 Bruce Springsteen
In the first Jazzfest after Hurricane Katrina, Bruce Springsteen performed a stirring and impassioned set on the Acura Main Stage, one that moved many festival-goers to tears. The Boss played with his newly formed Seeger Sessions Band, and incorporated a wide array of horns, pianos, accordions, and backup singers, all set against his trademark gravelly voice. In a particularly emotional moment, he dedicated "My City Of Ruins," originally an ode to his hometown of Asbury Park, NJ, to New Orleans. He closed out the set with an acoustic rendition of "When The Saints Go Marching In," and thousands sang along. Springsteen's set, part of which can be seen in the above video, was a testament to the resilience of New Orleans and its citizens. He returns this year with the E Street Band for the second time since that historic performance.
Big thanks to The New Orleans Jazz & Heritage Foundation Archive for helping to compile information for this article.