POSTED Tue. Apr 29, 2014
Great non-Jazz Fest shows during Jazz Fest's second week.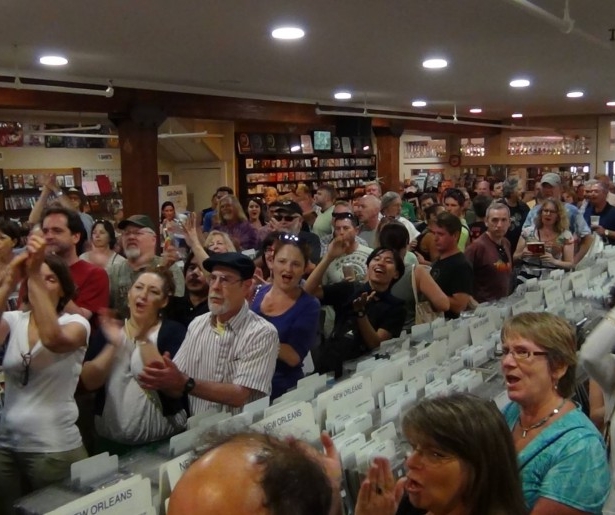 SHARE
I've noticed, in the days following the first weekend of Jazz Fest, that the cheesy upper end of Bourbon St is getting packed with out of towners. It's an interesting phenomenon; Jazz Fest is supposed to attract folks seeking a nebulously defined 'real' New Orleans experience, but when the Fairgrounds are closed, those same tourists are flocking to the corniest corners of the Quarter.
This is problematic. At this stage, Jazz Fest has practically become a two week festival. In fact, if you're really into New Orleans music, you've a better chance of seeing local musicians playing their home turf in the days between Jazz Fest weekends, as opposed to the actual weekends themselves (also, said musicians will probably be playing in an air conditioned venue, and you won't have to pay $70 to see them). Jazz Fest is great for out of town performers – where else can you see Eric Clapton and Vampire Weekend at the same venue for $70? But to really see local acts, catch them around town during the evening.
So without further ado: our picks for local music over the next few days.
1 Louisiana Music Factory
The Louisiana Music Factory's mission is, as you may guess from their name, deeply intertwined with promoting local music. Today and tomorrow, from noon-8pm, they're hosting a veritable Who's Who of local musicians at their shop on Frenchmen St. There are far too many acts to list on this page (click here for a complete list), but take note: the shows are free. Some standouts include Trombone Shorty at 5pm today; Kermit Ruffins at noon tomorrow; Rebirth at 1pm tomorrow and Ellis Marasalis at 6pm tomorrow.
2 City Park Garden Parties
City Park is holding Garden Parties all week in the Botanical Gardens. These are decidedly not the crustless cucumber sandwich version of a garden party. Instead, expect musicians ranging from Cyril Neville and Luke Winslow King (tonight) and Theresa Andersson and Flow Tribe tomorrow; click here for more details. The show is open to all, but a $10 donation is suggested and appreciated. Shows start ay 7pm.
3 Oak Street Block Party
On Wednesday, the Oak Street Block Party will electrify Carrollton and the Riverbend. If the words free music and crawfish boil don't get yor heart racing, we're not sure what will. The celebration goes from 12:30-7pm; performers include Catfish Alliance and the Oak Street Allstars.
4 Snazz Fest
Also tomorrow: Snazz Fest. In lieu of the Chazz Fest, which was canceled this year, the big downriver showcase for local musicians is Snazz Fest. Performers include Alex McMurray (pictured above), The Stacks and The Honeypots. Tickets are a paltry $7, and the show goes from 5-9pm at 3913 St. Claude.
5 The Union
Need some rock to electrify a jazz-y music itinerary? Tomorrow night (Apr 30), The Rusty Nail is hosting The Union: Swamp, Soul and Rock-n-Roll Revival. For $15 you'll get to see Papa Mali (pictured above), Pigeon Town and Jenn Howard; this is an all day and evening affair that goes from 3-8pm.
6 Rhythm of Valence Street
Speaking of Papa Mali, he'll be appearing alongside Zigaboo Modeliste (pictured above), Cyril Neville, Big Chief Monk Boudreaux and fair few other local icons at Rhythm of Valence Street at Chickie Wah Wah; the show starts at 8pm, and tickets are $27. That's a bit steep, but this lineup is a trip through some of the best of New Orleans funk and R&B.