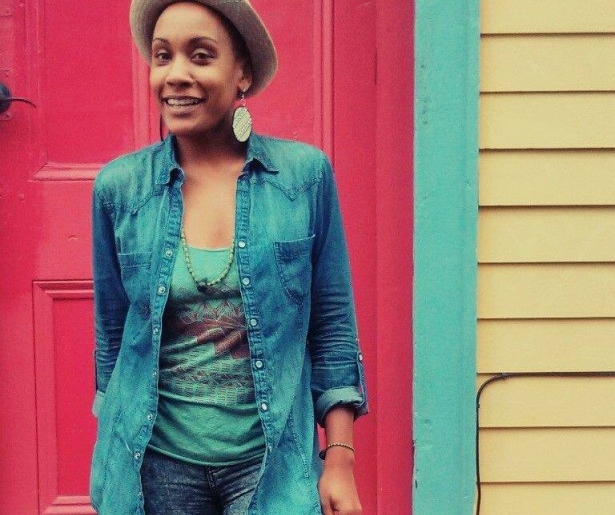 SHARE
Though the majority of music-lovers traveling to New Orleans this time of year are likely coming for the big stages, large crowds, and outdoor party atmospheres of celebrations like Jazzfest, some may also crave smaller indoor settings, or musical performances from artists dabbling in more experimental genres. Brazland: Bate Galeria looks to provide just such a show with a "Festival de Música Eclética Cultural" on Thursday, May 1st at L'Entrepot (527 Julia St.), a multi-purpose art and performance venue in the heart of the Arts District.
New Orleans own multi-talented hip/hop artist Voice Monet (pictured above, courtesy of facebook) hosts the event, which includes an eclectic line up of hip-hop, R&B, soul, jazz, brazilian, electronic, and dance music. Voice is a noted creative collaborator, an actress as well as a musician, and one of the resident artists at L'Entrepot. She's also the daughter of celebrated local jazz vocalist Zardis, who will be performing at the event as well.
Zardis hasn't played live in a while — she taught at Delgado for several years and has recently been busy acting in a few major motion pictures — so her performance should be full of returning-to-the-spotlight energy. She'll likely sing a few duets with another of the night's performers, Riccardo Crespo, a Brazilian singer/guitarist. Crespo combines acoustic folk with Latin jazz and traditional Brazilian music, and then filters it all through a deep love for New Orleans, where he's lived for the past fifteen years. He'll be playing with his band at Jazz Fest, but the set at Brazland promises to be an intimate affair, similar to this performance a few years ago at Louisiana Music Factory.
Making their New Orleans debut as the headliner of the night is Los Angeles-based neo-soul R&B group Hawthorne Headhunters. Known for their collaborative enthusiasm and left-field hip-hop experimentation, the four piece embody the progressive spirit of Brazland. Expect artful beats, some psychedelic funk, and crisp vocals from singer/spoken word poet Coultrain and hip-hop MC Black Spade.
L'Entrepot is a relatively new space in the burgeoning Arts District that hosts film screenings, gallery openings, and other special events. Brazilian restaurant "Cafe Carmo:http://cafecarmo.com" shares the building with L'Entrepot and will offer tropically-themed cuisine for the first half of the evening, before Rollin Fatties food-truck service arrives to offer gourmet burritos as a late-night option.
Other noteworthy aspects of the night: live painting throughout the performances from local painter and tattoo artist Ceaux Young, complimentary cachaca cocktails for guests that arrive early and a late-night dance party led by DJ P.U.D.G.E. to close out the evening.
Brazland offers a different atmosphere from Frenchmen clubs and run of the mill large venues The event showcases hip-hop and DJ culture that isn't as prevalent at Jazz Fest proper, while still embodying the spirit of eccentric, multi-genre musical performances that Jazz Fest has come to represent. With the throngs of people packing into the French Quarter and Mid-City this upcoming week, events in other neighborhoods like the Arts District can provide a welcome reprieve from the crowds, and also reveal rich pockets of musical talent dispersed throughout the city.
Tickets are $20 in advance and $25 at the door. More information about tickets and additional featured artists can be found here