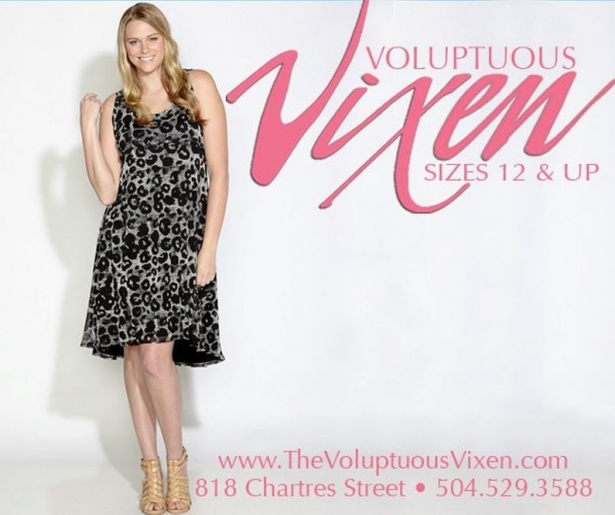 SHARE
By Shercole King
New Orleans is home to many unique boutiques, especially for the ladies. From retro and glamor to gothic; whatever you like, if you search for it, most likely there is a boutique within the city limits catering to your needs. Throughout the city, shops specializing in the petite, the tall and definitely the plus size community can be found.
Many areas have basic stores for plus size fashion, but nothing with clothes we'd call funky. New Orleans is a creative kind of city, so it's only right that there should be some great boutiques catering to the creative plus size community.
In the spring and summer, this city calls for clothes that can deal with hot and humid weather. What better way to be cute and beat some of the heat than with a dress? There's nothing like a cute dress to make you feel like a lady and put a smile on your face as you walk down a New Orleans Street.
A shop I first experienced during French Quarter Festival is The Voluptuous Vixen, placed perfectly in the Quarter within walking distance of Jackson Square. This is a great boutique to find staple pieces for your wardrobe. When in need of the perfect little black dress for your next event, Voluptuous can provide with options like the Monif C. Marilyn Dress.
At Armoire Boutique (just one shop among the mecca of boutiques on Magazine Street), sizes 0 through 20 can be found. Armoire has great pieces for the springtime/summer including as a variety of maxi and sleeveless dresses.
For retro loving ladies, Trashy Diva will not disappoint, with 1940s and 1950s inspired designs ready for your closet. You can't go wrong with pieces like the ""Trashy Diva Trixie Dress": http://www.trashydiva.com/shop/Trashy-Diva-Trixie-Dress-p4039.html. you can't go wrong.
Two others boutiques worth mentioning are B. Boutique and Buffalo Exchange. B Boutique carries collections like NUE by Shani and Glam along with other great finds. To find reasonable priced used clothes, Buffalo Exchange has some unique finds, especially in the accessories field.
*The Voluptuous Vixen
818 Chartres Street
*Armoire Boutique
4222 Magazine Street
*Trashy Diva
829 Chartres Street
*Buffalo Exchange
3312 Magazine Street
*B Boutique
3950 Magazine Street
Photos courtesy of Voluptuous Vixen and Armoire Boutique